How to Prep Your Garage for Fall and Winter
The season change from summer to fall might involve swapping out swimsuits and sandals for sweaters and winter boots. It likely also involves locating your winter jackets and ensuring you've got enough space for snow boots, scarves and hats in your entryway.
This seasonal ritual should also involve preparing your garage for the colder weather. This space can be so much more than a place to shield your car from rain, snow and ice. It should also be a spot where you can put snow cleanup essentials within easy reach and store summer gear for next year.
Steps to preparing your garage for cold weather
1. Clean out your garage
If you spent the spring and summer with your garage door open, the space has probably accumulated some dirt, leaves and dust. Remove everything from the space—yes, even larger items—to sweep out bugs, cobwebs and anything that shouldn't hang around through the winter.
2. Put away summer tools and gear
It's time to say goodbye to your kids' sand toys, patio furniture, pool floats and gardening tools. Pool and beach toys, as well as patio furniture cushions, may fit nicely on high, out-of-the-way cabinet shelves with sliding doors so they stay dry and dirt- and dust-free.
Take advantage of wall space to store metal garden tools—storeWALL track systems with hooks help keep everything off the floor to prevent them from falling over or becoming a tripping hazard. It'll also minimize rust. Weed killer and other lawn chemicals should be placed in a locked cabinet away from small children.
3. Put cold-weather gear within reach
Having easy access to sand, salt and shovels will help you face the first winter storm much faster. Track down these items now, make sure you have adequate supplies, and find a good place to store them.
Hang shovels on the wall near the door. Buy more sand and salt if needed (to avoid buying it last-minute as a storm approaches) and lock it up so it's out of reach of children and pets. Now's also a good time to ensure your snow blower is working and you have adequate fuel.
4. Check your garage door
Weather can wreak havoc on your garage door. Before the temperatures begin to drop, check your garage door to ensure it's working properly. Remove dirt and debris that might block the track, make sure it's lubricated, and check batteries so the door is powered through the fall and winter.
5. Remove items that shouldn't be stored in your garage
You may look at your garage as a catch-all for storing items, but it's not the best place to keep certain things, such as anything flammable, paint, chemicals or propane tanks Paper products, such as extra paper towels, plates or napkins, can attract rodents and get ruined by moisture. These are best stored in your pantry.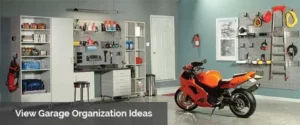 Your garage is a good place to keep anything that won't be affected by the cold. Further protect these items from the elements by storing them off the floor.
If you're getting your garage ready for the change in seasons and you're in need of better organization, reach out to us for a free, in-home consultation.