Real Life Horror Stories from Other Custom Closet Companies
Most custom home organization companies offer free consultations so you can learn more about the product, talk to a designer about what you need to store and where, and learn about all of your options before settling on a company that's right for you.
At The Closet Works, we take these consultations seriously—we try to understand our clients' pain points and provide them with the best possible service so they are truly happy with the final product.
Typically, people will speak to multiple custom closet companies in the process of making their decision. That's just being a smart shopper. But over the years our clients have had some … bewildering … experiences with other companies before they decide to work with us.
Here are some of the real life experiences our clients have had with other custom closet companies.
Clients held captive
Our clients are busy, and often they know what they want when we meet them during our free, in-home consultations. One client wanted a basic home organization system in white and chrome in three walk-in closets—she knew exactly what needed to be stored and what accessories she wanted. This made our job easy—we spent about 30 minutes in her house measuring three closets, reviewing items and discussing accessories and the timeline and then let her get back to caring for her young children.
But another closet company she met with before us, held her captive for three times as long measuring closets and attempting to sell her on their product—going so far as to measure heel heights of shoes even when the client said she'd prefer to store them in cubbies.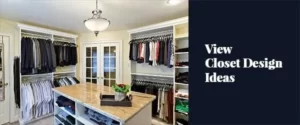 Inconvenienced by questions
A client who met with three other custom organization companies mentioned that after she received designs from one company, the designer seemed inconvenienced when she asked questions and instead focused on hard sell tactics to try to close the deal.
Most people don't add custom storage to their closets regularly, let alone understand exactly how to read floor plans, and it's common to have questions when reviewing any proposal. A client won't feel comfortable making a decision about a custom organization project until all of his or her questions are answered.
At The Closet Works, we understand that buying a custom organization system is an investment that shouldn't be taken lightly. That's why we're always eager to take the time to make sure our customers understand a proposal and are getting exactly what they want.
High-pressure sales tactics
Though hard sales tactics rarely work well, our clients have seen them from other custom organization solution companies. In fact, one client mentioned another company called her two times a day for a week to try to make the sale.
Other clients have reported that a designer from another company will try for the hard sell during the in-home consultation. They will report they can include an additional discount if you make the decision on the spot, without time to sleep on the proposal or consider other options.
At The Closet Works, we're confident in our product, which is why we never rely on tactics and are happy to let our prospective customers think about it—even if it takes a few months.
Designing in a vacuum
The best way for us to design an organization solution that works for you is to understand what you need to store. That means asking the right questions at the right time.
We were surprised to find out that one of our clients met with designers at several other companies and we were the only ones to ask about how many shoes she had, how much short-hanging and long-hanging storage she'd need.
We know that asking the right questions and uncovering the answers yields the best end result. For example, we talked to the same client about her laundry habits and determined that two tilt-out hampers, one for regular laundry and one for dry cleaning, would work perfectly in her walk-in closet—an accessory she hadn't previously considered.
If you're interested in an absolutely hassle-free in-home consultation, reach out to us.