Now is a Great Time to Finally Organize Your Garage
Do you remember when you bought your house and you looked out into the garage and you thought, "Wow! What a great space!" Perhaps, but now when you peer out there, you're likely thinking that it doesn't look quite as big as it did before. You're not alone. Things happen: "stuff" makes its way into the garage to be put away "later" and before you know it, even thinking about actually keeping a car or two in the garage becomes an impossibility.
It doesn't have to be that way, really. Garage organization is within your reach. You can have a place for everything, large and small and still have room for your cars. How you may ask? Simple, a garage organization system that takes advantage of all the space in your garage.
Find storage for everything—and yes, we mean everything
Think about the wide array of categories of items that need to be kept in your garage. Sports gear like skis, tennis rackets, golf clubs, baseball, football and soccer gear, sleds, beach toys and chairs, and all kinds of other recreational items. Then we have outdoor tools and equipment:  lawn mowers, rakes, shovels, lawn chemicals, barbeque stuff, ladders, hand and power tools, mops, brooms, buckets, a work bench maybe, there is no shortage of large items.
Plus you also need to have dedicated spaces for small items that you buy, use once, "put into the garage" and then can't find the next time you need. Not until after you buy another one, that is. These include super glue, fasteners, nails and screws, filters and replacement parts.
How about a recycling center? How about shelves for storing stuff you buy in bulk like paper towels, Kleenex, cases of soda, water or even large boxes of detergent. Gets you thinking doesn't it? Maybe a fold-down counter for potting, or gift wrapping or any project that needs a temporary counter space. The possibilities are defined by your needs and the Designer's creativity. An experienced and talented Designer can evaluate the space, measure your things, and create a design that will maximize all the available space and leave room for your ride too. Anyone can slap up a few shelves and hooks, but we are talking serious home storage systems that incorporate all different types of storage components and subsystems.
What are some features in a garage storage system that help with organization?
We mean open shelves, sturdy and adjustable. Closed cabinets with hinged doors, drawers or even sliding doors if you want to open the cabinets when the cars are actually in the garage. StoreWALL systems can provide all kinds of storage for large items like bikes or sleds or skis as well as hooks for hoses and cleaning tools. How about locked cabinets or drawers to keep little hands away from dangerous chemicals or sharp tools? There are options to store almost anything you need in an efficient, convenient and ergonomic way.
You will become the master of your garage domain. Your neighbors will develop a serious case of garage envy when they see how a once cluttered area transformed into an beautifully organized and efficient space. The best part is you will be able to find everything you need when you need it and get to it with ease.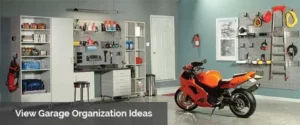 Store like items together
An effective storage system and some planning allows you to keep related items in close proximity to each other. That may seem like a bit of a no-brainer, but it's difficult to do if you don't have the right type of storage. Investing in custom storage allows you to keep all the things you need and use together in the same area. Save time, save space, and save the need for running out to get something that you can't find in the middle of a project. Think about it, working on a project, model, craft project or any kind of task or personal hobby in a relaxed, organized and convenient way.
If you're ready to finally achieve full garage potential, reach out to us for a free, in-home consultation. We can evaluate your space and your needs to create a custom solution that will just make life easier.