Closet Shoe Storage Disasters: Do This, Not That
When it comes to closet organization, finding a place for all your clothes seems to be the focus. Shoes often get neglected—they're an afterthought in storage solutions. Instead of having a spot in your closet, they get thrown carelessly into a pile on the floor or shoved in a cheap shoe bag on the back of the door. Sometime they don't even make it into the closet—they're stashed near the front door or in the middle of the floor somewhere.
Shoe storage—and the disasters that often result from having too many pairs and no place for them—is enough to make anyone a little crazy.
Here are a few ways to clean up the mess and organize shoes.
1. Keep shoes off of the floor
2. Use shoe shelves
3. A new closet shelf system
4. Slanted shelves and shoe fences
5. Stay away from shoe racks
6. Cubbies can do the trick
#1 – Keep shoes off of the floor

It's Monday morning. You slept past your alarm—again—and you haven't picked out clothes to wear to work. After trying on three or four outfits, you finally settle on that blue pantsuit and want to find nude pumps to go with it. Only, how are you going to find the right pair of shoes in this mess?
Even if you arrange your shoes neatly on the floor of your closet every Sunday, they no doubt are piled into a heap at the bottom of your closet by Friday.
Source: Undercover DIYer
#2 – Use shoe shelves

Shoe shelves can help you de-clutter your closet and keep your shoes from getting smashed. And in this closet, shoe shelves give your kicks the attention they deserve.
Shoe shelves make use of small spaces in your closet—so that space between the floor and your clothes is easy to get to and organized.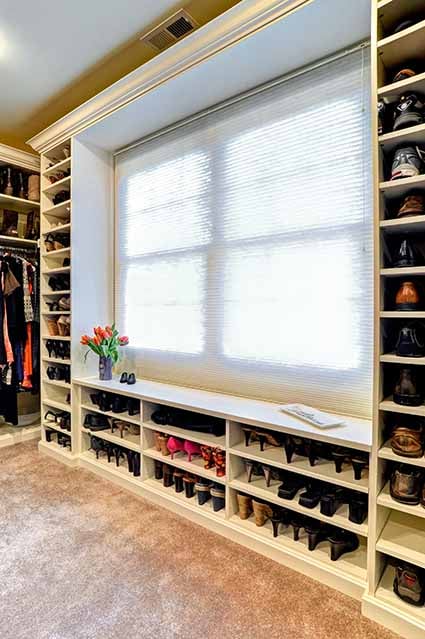 #3 – A new closet shelf system
Unfortunately for shoe storage, any old shelf system just won't cut it. Rather than solve your organization problems, making it easier to find all your shoes, these shelves turned one pile of shoes at the bottom of your closet into many small piles of shoes on shelves. Your shoe disaster has gone vertical; the shelves weren't made specifically for shoes, and there's room to throw pair upon pair. Not so pretty.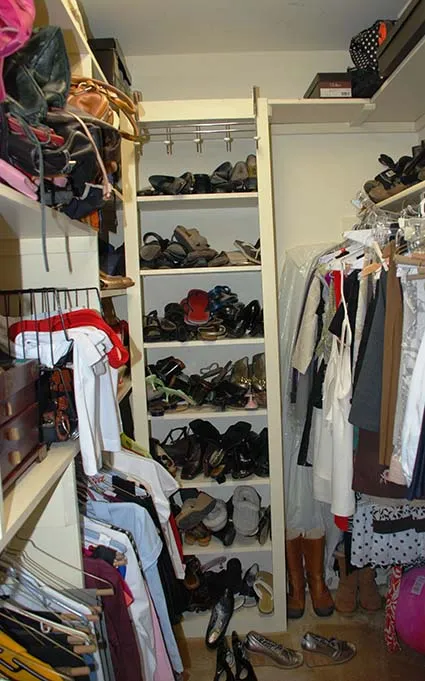 Source: House of Harper
#4 – Slanted shelves and shoe fences
Trade in your old shelves for some slanted shoe shelves that are custom-made for shoes of all types and sizes. Our customers love these slanted shelves that are just wide enough for an even number of shoes, keep your shoes standing upright no matter the heel height and provide more vertical space so that you'll have room for all your shoes. Decorative metal shoe fences keep your shoes in place while adding a stylish touch.


#5 – Stay away from shoe racks

It's easy to get organized, they said. Just get a shoe rack, they said.  And this is what you ended up with: a shoe rack that has, once again, taken your organization disaster and stretched it vertically. Good luck finding a match to any shoe you find on that rickety old rack. You've just taken your problem and made it worse.
Source: The Thrifty Couple
#6 – Cubbies can do the trick

A shoe rack might not be the answer, but cubbies used along with other storage solutions might do the trick. These individual spots are great for flats, sandals and sneakers, and ensure each left has its right. You won't walk out of the house accidentally wearing mismatched shoes.
If you are in need of a shoe disaster rescue, be sure to check out The Closet Works' custom closet solutions.