Smart Ways to Organize Your Kids Closet
Children's closets can often be difficult to organize for multiple reasons. They have different needs than adults with smaller-sized clothing. But they also often have a wider variety items to store – a collection of toys, books, stuffed animals, sports gear and more. Because they are just learning how to organize their belongings, they need simple and accessible storage to help them instill good organization habits. A flexible and smart solution will grow with your child as their needs change.
Here are some intelligent and creative ideas to help keep your children's closet organized
Look at the closet through your child's perspective
Before you begin the process of planning how to arrange and organize your kids closet, you need to look at it through their eyes. Most closets are made for adults and have the hanging at higher levels. You can fit multiple hanging rods at different levels for children in order to maximize the closet space. These can be also adjusted to different heights as your child grows. Pull-down rods are a great solution for hanging seasonal clothing which only needs to be accessed occasionally.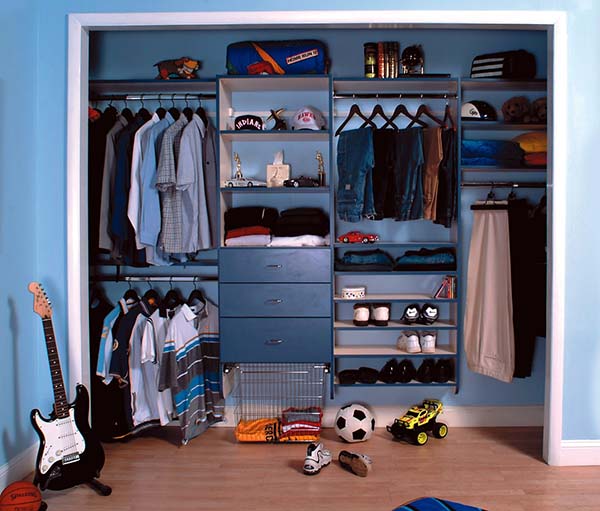 Plan the closets for now and in the future
Most closet organizers have special pieces and components that can be repositioned or added later to accommodate changing clothing size, type and accessory items. For example, maybe your daughter is growing and transitioning from active wear into dresses. Additional shelving or hanging rods can be added to accommodate the change in wardrobe items.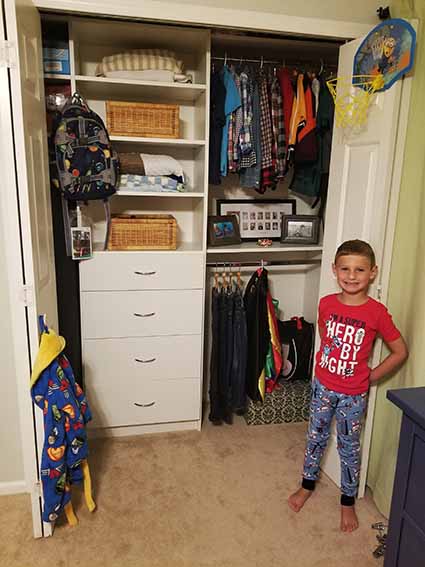 Let your children become involved in the organization process
It's easy as adults to want to jump in and do everything for our kids. However, it is important to remember that the closet space is for them and should be functional for their needs, not yours. Encourage them to share where and how they would like to keep their favorite items. Once that has been established, you can create a place for everything and have them put everything in its place. They can even be involved in picking out bins, baskets and other items and help decorate the closet and create order.
Children love routine. If they know where everything is located, they will likely be able to get dressed quicker and easier. Imagine not having to search for something at the last minute when trying to get out of the house for school, especially when you are already late. Ever had soccer practice and can't find their gear? If the ball, cleats, shin guards are stored in the same accessible basket, it is super quick and easy to find them and put them back when done. By taking these simple steps, you will increase the chance of them keeping their closet organized and tidy.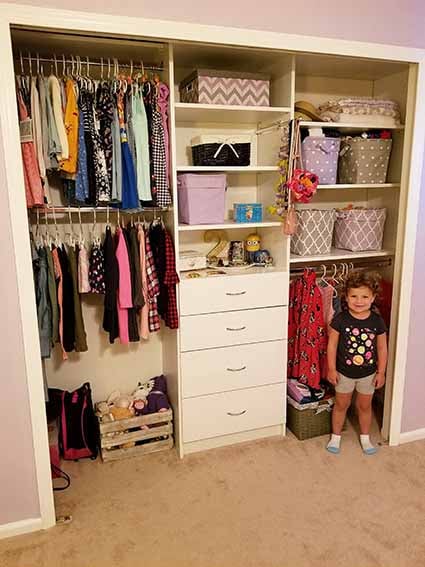 Where are the best places to store things in children's closets?
The answer to this question is the best place that works for them depending on age, height and use. However, here are some suggestions and ideas to get your started. Stuffed animals could be placed in a basket on the floor or in a bag that is hanging from the door. Shoes can be placed on shelves, cubbies, or racks that fit under a hanging section. A storage bench is ideal to serve a dual-purpose as a place to put on shoes and it has additional storage capacity. It will also add to the style of the closet. For smaller items like dolls and figurines, utilize toys as storage. Some fun storage options come in the shape of a dollhouse or car.
In the end, when trying to find the best options and ideas to organize your kid's closet, be sure to look at things through their eyes and find solutions that best fits the needs. Pay attention to how they like to get dressed, play and access the items they use on a daily basis. Be sure to leave room for growth and change as their needs seem to dictate. Should you have any questions or be interested in getting a free consultation from one of our experienced Designers, feel free to reach out to us. We can help make your life easier and less stressful.