Is Spring Organizing Just for Spring?
For some, organizing & cleaning in the springtime has become an American tradition – but where did this tradition originate? According to the Washington Post, people left housework, such as organizing and cleaning, to this specific time of year due to the impact the winter months had on their homes. More specifically, during the 19th century, grime and soot would build up from the oil and wood people used to heat their homes. Thus, the need to clean presented itself in spring. Women would purge everything from their homes (including their husbands) to ensure they could scrub every nook and cranny. After cleaning, the next step was purging what was no longer needed and organizing what remained.
Although this tradition is still going strong, we at The Closet Works recommend you maintain an organized home year-round. The benefits of keeping up with household clutter 12 months a year?
It can help reduce stress. Disorganization and clutter can cause low-grade stress which damages your health over time.
It saves time. Rather than spend your time looking for something, you know exactly where it is (or where it should be). Minutes add up!
It improves your health and well-being. OrganizedMindAndLife.com swears that when you have less clutter, you have less dust which increases your likelihood of avoiding allergies and/or feeling sick.
It makes you proud. When you see your home organized, you can't help but feel like you've accomplished something meaningful because you can actually see the impact a tidy lifestyle has on your family.
It saves money. A cluttered home can mean you're not sure of what you already own, and this can potentially lead to duplicate or unnecessary purchases. Knowing what you have keeps your money in your wallet. Cha-ching!
Check out the tips below on how to maintain an organized home all year round.
Maintaining Mudrooms
Maintaining a neat and tidy mudroom all year round can be easy when you implement the following features:
Assigned spaces. When you implement a mudroom design with sections that include cubbies, you can create a designated spot for each person in your home and their belongings. Everyone will have their own spot to hang their coat, bags and sports equipment etc. You can also install a bench for easily accessible shoe storage. When shoes are worn inside the house, dirt from the outside can be tracked into other areas of the house.
Use antimicrobial and antibacterial finishes. Using one of our new Finsa finishes can help you maintain a healthier mudroom. These finishes are treated to inhibit the growth of bacteria by preventing bacterial reproduction, so the bacteria ages and dies. In no way is this a substitute for cleaning, however it does contribute to a healthier space and could potentially help to prevent the development of infectious diseases.
Storage Solutions for Your Home Office
No matter how you use your home office, it's important to keep it tidy to help increase productivity and keep it fully functional. Here are a few practical ideas available to keep your office space tidy 365 days a year:
Customize your workspace. Keeping your workspace consistently clutter-free helps you focus more on your work. A custom-built workspace or desk can be designed to increase ergonomics, making working easier on your body, especially when you use an ergonomic chair. Additionally, you can create specific areas on your desk called work zones for your computer, printing, scanning and more – but remember, identify your specific needs first so you can achieve your ideal home office.
Suitable Storage. The options? You can have overhead cabinets with glass inserts or conceal your office supplies. Shallow drawers can provide optimal storage for small items such as: pens, pencils, paperclips, a labeler, pads, markers, a magnifying glass, sticky notes in an array of colors, printer ink, screen & lens cleaner, rags, stamps, business cards, a stapler or tape (just to name a few). You can create specific divided sections to accommodate all of the aforementioned items and stay super organized. A well-designed filing system incorporating either legal or standard size file drawers can save you time and effort, too. When considering a file system, ask yourself:

How much file space do I require?
Do I need a suspension system?
How would I like to categorize my files? (ex. Alphabetically)
Can this system support the weight of my files?
Whichever filing system you choose, make sure you have easy access to this system while you're sitting at your desk. Cubbies, with or without a door covering them, can be a great choice to store paper supplies you use often. They also make a convenient home for bills that are waiting to be paid, items that you're holding onto for future review, and items you intend to file at a later date.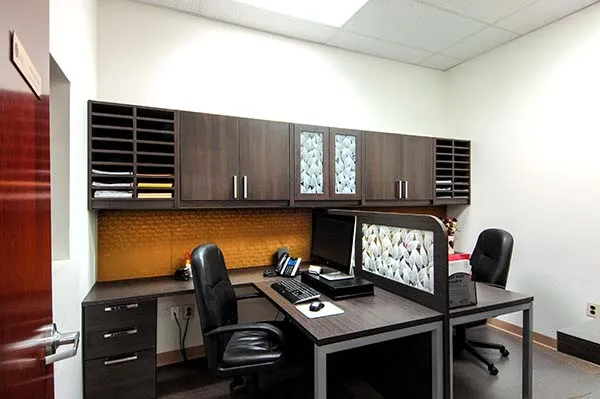 Tip: Going digital with your work files, bills and other pieces of mail has its benefits. Not only is it environmentally-friendly but going digital also cuts down on the physical amount of paper clutter you have, in addition to safeguarding your files with digitally organized copies. Just in case – don't forget to back up your digital copies on an external hard drive for security's sake!

Clutter-Free Closets
Published results from a survey done by Decluttr and The National Association of Professional Organizers concluded that 54 % of Americans are overwhelmed with clutter and aren't sure what to do with it. Furthermore, 67.2% of people said that their bedroom closets are the most cluttered space in their home, according to Clutter. Here are a few solutions to solve the daily clutter crisis in your closet.
Purge regularly. Rather than waiting for spring to toss clothes and accessories you no longer wear, make it a goal to do so every three to six months. How can you determine what clothes you don't wear or use? A good tip is after you wear an item of clothing, turn its hanger in the opposite direction.
Tip: When purging, make three piles: toss, keep or donate. If your clothing is gently used and you no longer wear it, donate it to a charity or organization that can then distribute it to someone in need.
Shoe shelves. Something as simple as grabbing a pair of shoes can become an issue if your shoes are in a pile on your closet floor. Shoe shelves can easily solve this issue – but there are a few options to consider, each with their own benefits: flat shoe shelves, angled shelving and cubbies. Flat shoe shelves can provide easy access to your shoes and uses the space most effectively. While angled shelves can provide you with more visibility and are ideal when you want to showcase your collection (if even only for yourself). When storing sandals, flip flops or sneakers, cubbies can hold twice as many pairs in the same amount of space as traditional shoe shelves can.
Jewelry. One or two-tier jewelry inserts made of acrylic or velvet can keep your rings, bracelets and watches from getting lost or twisted. Either storing flat or on a vertical slide-out rack is best to help keep them tangle-free.
Drawer dividers. Use dividers in your sock and underwear drawers to keep these delicate pieces neat and. Another tip? For better visibility, store these pieces vertically instead of stacking them on top of each other.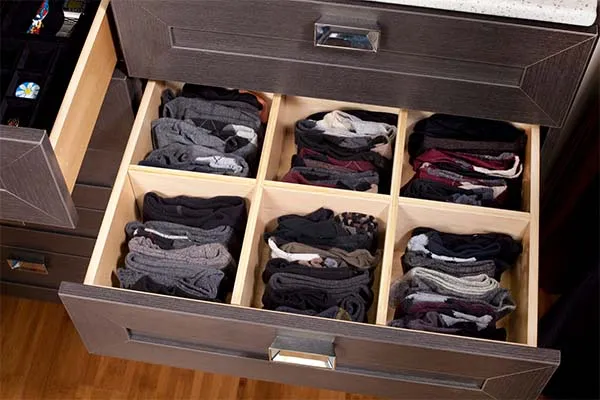 Organizing is not just for spring. When you maintain a level of organization that fits your lifestyle, you can then focus on higher priority tasks around the home, as well as increase your productivity and reduce stress since you're not worrying or scrambling to find things. You may also have more leisure time to do the things you want. So, treat every day like it's spring – a chance to start anew and shake off the dust.
Interested in learning more about getting organized or The Closet Works' custom solutions? Request a free design consultation with one of our professional Designers today.