How to Stop Procrastinating & Stay Focused on Cleaning & Organizing
We've all felt this way before: You face what seems like an insurmountable pile of work before you—that big work project that's got to be wrapped up by the end of the quarter, your reach-in closet that's got boxes piled to the ceiling or your home office desk that's covered with tax documents and bills. But rather than being motivated by the amount of work you've got to do, you just get overwhelmed. It just feels easier to keep putting it off.
But experience will tell you that procrastinating will make you feel more stressed out and ultimately lead to more clutter and more time spent when you finally start to declutter, clean and organize.
It's time to throw procrastination aside and become more productive. Moving forward with your plans to organize your walk-in closet or reassess everything in your garage may seem like just a task that needs to get done, but it could help you prioritize other tasks. It may also create momentum and improve your ability to get more done.
Here's how you can stop procrastinating and get focused on organizing this year.
1. Create a Plan
The thought of tackling one big reorganization project can overwhelm, and so can cleaning up each of the small, cluttered spots in your house. The best way to get organized is to come up with a plan. (Download our 30-day checklist to minimize clutter throughout your house.)
If you're planning to clean and organize one specific room of your house, make a list of the step-by-step process you'd like to follow or create a bulleted list of the specific areas within a room. For example, if you're organizing your garage you can break down the room into areas: tools, outdoor furniture, gardening supplies, summer sports equipment, winter sports equipment, etc.
Breaking the project down into smaller steps will make it feel more manageable.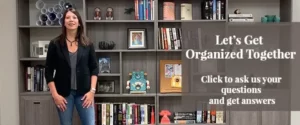 2. Give Yourself a Deadline
Before you put your plan into action, give yourself a deadline or two to help you stay on track. If you're planning to clean and organize your closet with a custom solution (which involves a company like The Closet Works), we'll work with you to determine when the custom solution can be installed. Then, you can work backward to determine when you need to clear out the space and decide what to keep and what to donate.
If you're not working with a partner to get the work done, you'll need to set deadlines yourself. But one word of caution: Be realistic! Set reasonable deadlines that include some "breathing room" if a life event gets in the way.
3. Avoid Distractions
Whether you've got a pile of mail to review or you're attempting to clean out your basement, there's no better distraction than social media, Netflix or virtually any other activity than the one before you.
To get your home organization project done you have to avoid distraction. Schedule time to read and file mail or decide which of your kids' toys stays and goes. Then, put your phone in another room and get to work.
When it's over, you can reward yourself with a scroll through Instagram or an episode of your favorite show.
4. Develop Routines
While it's good to take care of that "deep clean" during spring, it's also important to find strategies to keep spaces from getting cluttered all over again. You can do this by developing routines.
Creating a daily or weekly routine makes it easier to plan out your days and weeks—you'll know what needs to be done when you wake up, leaving less time for procrastination along the way.
To start a daily and weekly routine, first, make a list of the organization-related tasks you need to complete. Most tasks will naturally fall into a "daily" or "weekly" bucket: For example, your entryway is a high-traffic area that warrants daily decluttering, but your pantry needs to be reviewed on a weekly basis before grocery shopping.
Once you've made a list, you can prioritize by assigning weekly tasks to a day of the week and daily tasks to morning, midday or evening. When prioritizing each task, consider you and your family's schedules and how much energy you typically have at those times. Once you put your routine into motion, you can adjust as needed—as long as you stick to the plan!
Now that you're committed to being more productive when it comes to cleaning and home organization, you might need some help from the pros. If you're interested in learning about how a custom organization solution can help you stay organized, reach out to us for a free consultation.