5 Strategies to Keep Your Pantry Organized Once & For All
One of the keys to eating healthy is cooking for yourself and your family. But if your kitchen is tiny or your pantry is a disorganized mess, preparing healthy meals every day will quickly become a chore.
A cluttered and disorganized pantry makes it more difficult to find the cinnamon in a pinch or to see how much sugar is left when you're making your grocery list. It can also contribute to wasted food. If your pantry is messy, it's harder to know that you have a box of cereal or a sleeve of cookies at the back of your cabinet until it has long passed its expiration date.
Try these tips to help you declutter your pantry and keep it organized for good.
1. Clean Out Your Pantry
Before you begin putting canned goods, dry goods and serving dishes in new spots in your pantry, you should go through all of your items. Take out every box of pasta and bag of chips, toss what's past expiration and assess what you have left.
2. Create Storage Zones
To get the most out your pantry, you should organize it into how you use the items and how often. Spices, dry goods and snacks that you and your kids reach for often should be easy to see and easy to get to. On the other hand, seasonal items that you use once or twice a year can be stored out of view.
Here are some zones to consider:
Staples – Your go-to foods such as tomato sauce, pasta, rice and beans
Snacks – Crackers, chips, cookies
Breakfast – Cereals, oatmeal, breakfast bars
Baking supplies – Flour, sugar, cake and brownie mixes, syrup, sprinkles and spices
Beverages – Bulk bottled water, soda, seltzer
Bulk items – Extra paper towels, napkins, plastic zipper bags, everyday paper plates
Entertaining – Drink stirrers, napkins, plasticware, coasters, paper plates
Servingware – Trays, seasonal dishes, tablecloths, cookie sheets and other large items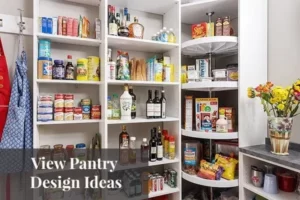 3. Use Clear Bins and Label Everything
Rather than storing flour, sugar and bulk grains in plastic zipper bags or their original containers, invest in clear, airtight plastic canisters or bins and a label maker. Your food will stay fresh longer and you'll never have to guess whether you're picking up the sugar or the salt in the middle of dinner prep.
You can also use a label maker to mark where items go to encourage your kids to put things back where they belong. This will help you maintain order in your newly-minted pantry zones.
4. Go With Custom Cabinets and Storage
One way to keep everything in your pantry organized is to choose a custom solution. A custom pantry can be built in just about any space—all to help you use it more efficiently. Custom pantries are great ways to stay organized because the components can be built to suit your particular needs. For example, you can more easily maintain zones with shelves that are the right height for boxes, bins and containers.
Roll-out shelves make it easy to reach everything that's stored in one spot—no more forgetting about that box of cereal bars stashed in the back. Similarly, roll-out baskets are great for your "snack zone" – it's easy to toss a bag of chips or pretzels into a basket and easy to see what else is in there. Wire baskets are also ideal for storing produce so it can breathe.
For cutting boards, trays and platters, vertical storage can help you get to a cookie sheet when you need it without sifting through every platter you own.
Custom designs can also include Lazy Susans for cans, spices or small boxes—making it easy to find what you need without moving a bunch of stuff around.
And shelves with acrylic supports or cubbies can help you store your bottles of wine or other beverages.
5. Review Your Pantry Organization Monthly
You've worked hard to clean and organize your pantry; don't let it get messy again. Give your pantry a once over about every month to check for snacks that are nearing their "good by" date or which dry goods you might need to stock up on. This will prevent you from letting food go to waste or frantically asking neighbors for a cup of sugar in the middle of baking cookies.
If you're interested in learning more about a custom pantry that will help you get—and stay—organized, reach out to us for a free, in-home consultation.