Tips to Tackle Spring Cleaning & Organizing in Your Home
Temperatures are slowly rising and Daylight Saving Time has just begun, which means that spring is on its way. Spring is all about renewal, and what better way to refresh your home than with spring cleaning and organizing?
The idea of a thorough spring cleaning has been around for centuries. People in North America historically have embraced this annual tradition in March because it warms up enough to stop running the furnace, open the windows without the threat of too many bugs and clean the soot and dirt from the home. Our more modern-day version of spring cleaning focuses on deep cleaning parts of the house and organizing different areas to start anew.
Here are some areas of your home you should add to your spring-cleaning checklist.
Your Kitchen
No doubt in the 12 months since your last spring cleaning your cabinets have accumulated dirt, dust, grime and residue thanks to cooking and heating your home. Take this opportunity to scrub your cabinets clean to remove build-up from months of cooking—especially if you don't always use an exhaust hood. For wood cabinets, try using Murphy oil soap or a 50/50 solution of vinegar and water; if your cabinets are painted, dilute your cleaner and test an area first.
Now is also the time to tackle your pantry. Whether you're storing spices, snacks, other dry goods, serving trays or tablecloths, there's a good chance those items are stashed where they fit, rather than by how often they're used.
The best way to organize this part of your kitchen is to remove everything and discard any items that are out of date. Then, think about your organization system and, if it's not working, change it. The best way to do this is with a custom pantry solution that gives each container or item its own space with things like adjustable shelves, rollout wire baskets, vertical slotted storage, rollout drawers and lazy Susans.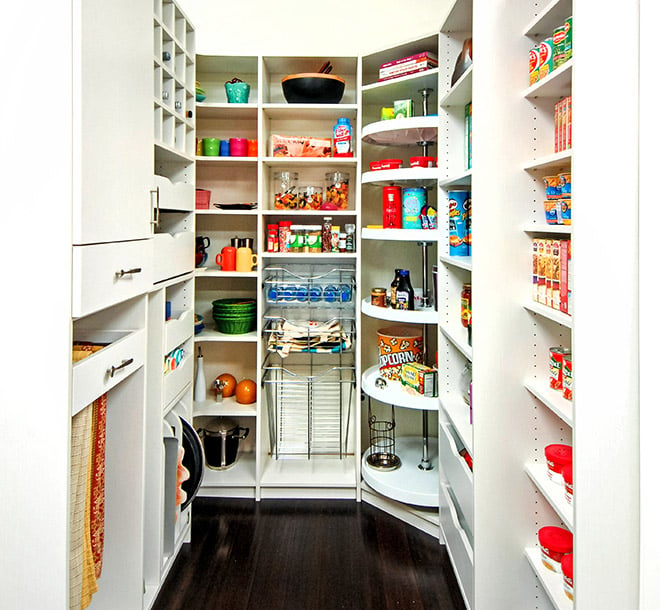 Your Mudroom or Entryway
Your family has been tracking dirt, mud, slush and snow into your mudroom for four months now; there's no doubt your mudroom or entryway could use some deep cleaning. Take some time to mop the floors to remove dirt and salt, and vacuum or scrub your doormat.
Then, think about storage and organization like a hook or two for coats and backpacks; drawers or a chest for gloves, scarves and cold-weather accessories; open storage for hats and cubbies for boots and shoes. Creating custom storage in your mudroom or entry means that, even when the space isn't sparkling clean, especially after springtime rain showers, it'll at least be organized and presentable.
Your Closet
By the end of the winter season, your sweaters, which were once neatly folded on a long shelf above a hanging rod, might now be a disorganized pile. The same goes for your collection of boots at the bottom of your closet—making it hard to match one with the other each morning. A disorganized closet means you likely spend more time trying to figure out what you're going to wear everyday. Spring cleaning is the time to change that.
First, review your wardrobe to find the tops, pants and dresses you haven't worn in a year, the garments that are just a bit out of style or ones that are stained or need mending (and, let's face it, that will likely never happen). Donate clothes you no longer need to charities that will give them to those less fortunate.
Then, consider a custom closet solution to keep your wardrobe neat and organized. Custom closets provide the perfect storage for all your clothes, including cubbies to keep your flats and sandals paired together and shelves for dress shoes, drawer organizers for jewelry and small accessories, shelves that are the perfect width and depth for sweaters and other folded tops, and enough hanging storage to store all your clothes. Treat yourself to a custom closet now and you'll wonder how you ever lived without one by the time spring cleaning rolls around next year.
Your Patio & Outdoor Furniture
Mold, bugs, dirt and who knows what else have likely accumulated on your patio since last fall. The first warm weekend is a good time to start cleaning up your outdoors spaces and prepping them for spring and summer days.
If you've got a wood deck, sweep debris away, then power wash it for a deep cleaning. Finally, use a deck cleaning solution to clean and preserve the wood. For a cement patio, try using a nylon brush and a mild cleaning solution.
Clean your outdoor furniture based on this guide for plastic, wicker, wrought iron and teak wood so your outdoor spaces will be primed for family time or even a party.
Your spring cleaning routine doesn't have to be done in one day—or even one weekend. Break up your cleaning schedule and assign tasks to family members to help clean and organize different parts of your house over the next several weeks. When you're finished, you'll have a refreshed home that's primed for spring and summer.
If you're interested in custom solutions to organize your home, reach out to us for a free consultation.