The Zoom Room Bed! Ultimate Style. Comfort. Convenience. WOW!
If you need a spare bedroom and don't really have a room to spare or if you have a studio apartment and want to have an amazingly cool living space without a bed detracting from the look, have we got the answer for you…the Zoom-Room.
This amazing technical marvel provides the coolest hidden bed available with unmatched style, panache and an incredible wow factor without sacrificing comfort!
How does the Zoom-Room bed work?
Europeans have known for years that bed frames made of bowed wooden slats outshine box springs in terms of comfort, support and durability. Zoom-Room has taken this concept one step further to create the ultimate design solution for convertible spaces.
Touch the wireless remote, and Zoom-Room's premium foam mattress floats into the room. Supported by a European style slatted frame, it simply glides down a vertical track hidden inside an elegant cabinet. Just 24″ deep, the Zoom-Room bed section is invisible, and, unlike other wall beds, does not interfere with your flat screen TV, bookshelves or whatever you have in front of it.
Is a Zoom-Room bed comfortable?
The Zoom-Room wall bed mattress is meticulously designed to conform to your body, promoting a refreshing and peaceful night's sleep. Zoom-Room's beech wood slat base is designed to add support where you need it most – the neck and lower back – while offering a bit of give where curves occur naturally. Six of the twenty-eight slats are adjustable, allowing you to control how firm or soft your mattress will feel, and are connected to rubber slat mounting cups that offer just enough flexibility for a weightless feeling , restful night. Proven materials, attention to detail, and European style design make Zoom-Room as comfortable as any bed in your home.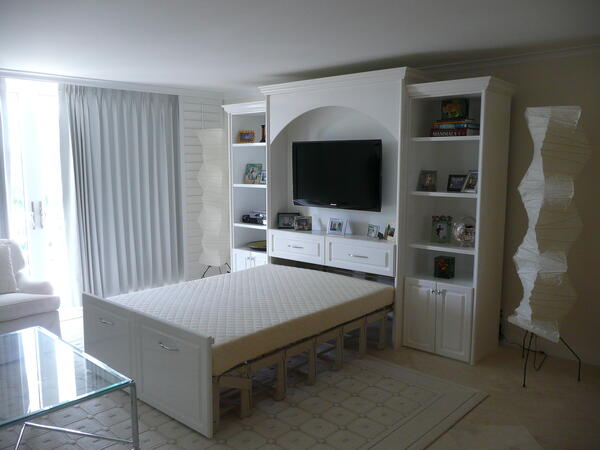 Not only is the Zoom-Room comfortable, it is beautiful. You can specify any style cabinet that you like. You can create an amazing living space with just the right cabinetry to reflect your personal taste and when it's bedtime, you can convert that space into a bedroom at the touch of a button.
No other sleep system compares to the Zoom-Room bed and we are pleased to invite you into our showroom to see and experience this incredible development for yourself.