Our 8 Tips for Cleaning Up Your Cleaning Supplies
We're guessing that when it comes to cleaning the house, the task isn't on your top 20 list of things you enjoy doing! To make cleaning worse, starting with disorganized or cluttered cleaning supplies makes the process all the more dreadful, and needless to say, counterproductive.
As a matter of fact, The Daily Mail estimates that we'll each spend 3,680 hours of our lives (or 153 days) searching for misplaced items. If you can't find the large garbage bags, clean sponges, or you misplaced your brush and dustpan, you will waste valuable time looking for them – hence the irritation and grrrrr!
In order to avoid the worst-case scenario above, we recommend that you organize your cleaning supplies to save time and reduce frustration.
Here are our top 8 tips for keeping your cleaning supplies clutter-free and organized: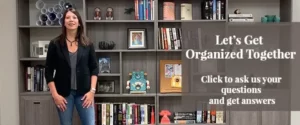 1. Where Should I Store Cleaning Supplies
While it may seem obvious, keeping certain cleaning supplies where you use them most often can help you stay organized and even cut down on time you'd spend scouring the house looking for the bathroom cleaner, for example, or walking one place to get something that you always use in another place. What a waste of your time and effort!
The next time you tackle a house-wide cleaning, move products to where you use them most and keep them there.
Expert Tip: According to Marthastewart.com, the most common and best places to store your household cleaning supplies are under your sink, in the garage or in a hallway closet. We at The Closet Works, Inc. also recommend the laundry room.
2. What's a Quick Way to Organize Cleaning Supplies in a Cabinet, Closet or Under the Sink?
Caddies and bins are a quick way to organize supplies. Grab a small bin or caddy and fill it up with related supplies.
If you keep a lot of sponges or wipes in one area, put them together in one bin and put other supplies like brushes and cleaners in another. Put small labels on the front of each bin so you have an easier time looking for what you need.
Caddies are super useful for when you have a day full of chores. Just grab the prepacked caddy and while you clean, bring it with you to each room – this is a time saver!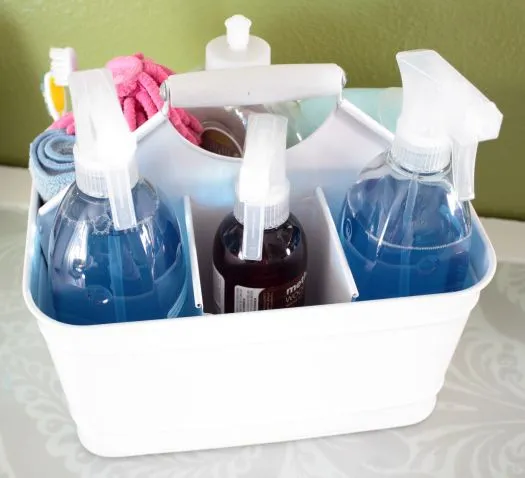 Image courtesy of Pinterest
3. Where Should I Hang My Cleaning Rags and Gloves?
Add small hooks to the back of a cabinet door to hang gloves, wipes and rags.
These supplies, which often end up at the bottom of a bin or the floor of a cabinet, are easier to reach when they're hanging up—and if they're damp, they will dry much more quickly when they're not balled up in a corner.
Image courtesy of Pinterest
4. Can I Install a Tension Rod Under My Sink?
In small spaces like under a sink, add a tension rod to hang towels, rags and even spray bottles and brushes that you use regularly.
Put the bottle or brush handle over the tension rod and let it hang.
Expert Tip: Don't forget – if you live with little ones, whether they're children or pets, remember to put a child-lock on the cabinet door that leads to under the sink. Better safe than sorry!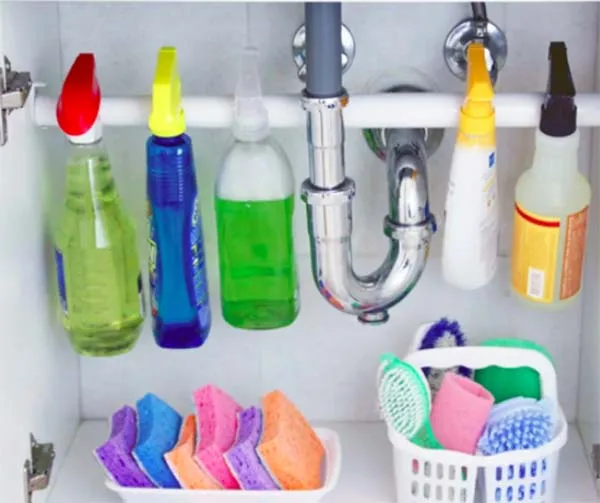 Image Courtesty of Bob Vila
5. Can I Organize My Cleaning Supplies on a Lazy Susan?
Using a Lazy Susan can help maximize your storage space and minimize the time spent getting down on your knees looking for what you need – which is why they're so popular in kitchen pantries!
Simply spin the tray around to get what you need, when you need it. This is perfect for small spaces like corner cabinets or narrow linen closets.
Image courtesy of Pinterest
6. How Can I Maximize My Storage in a Small Space?
Whether you plan to keep some cleaning supplies in your laundry room or linen closet, you might be crunched for room.
A custom-made solution that includes just-the-right-size shelves and baskets can help you get the most out of a space you thought was previously unusable. Instead, you can add storage that's wide enough for just a bottle or two of cleaner or a box of dryer sheets.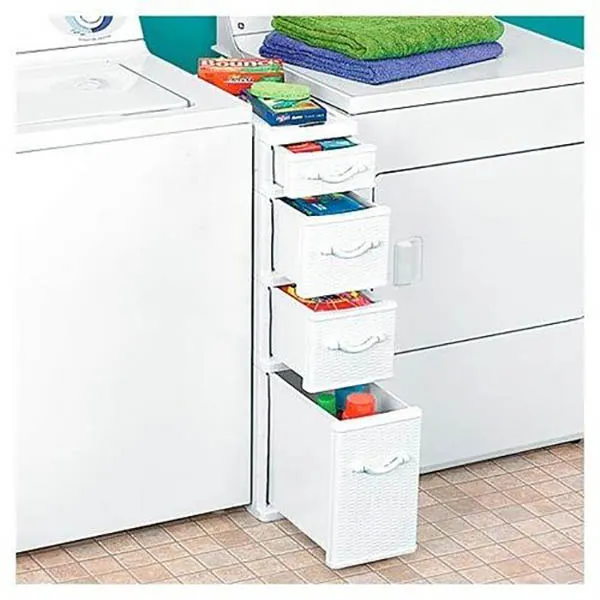 Image courtesy of Pinterest
 7. Where Should Large or Atypically Shaped Items, like Brooms and Mops, be Stored?
Brooms and mops that sit on the floor are not only more likely to get in the way or fall over, but they also collect dirt, dust and mold.
Instead of leaning these odd-shaped tools in a corner, simply hang them from hooks. A custom solution for your laundry area or linen closet is a pull-out organizer that helps store anything with a long handle.
Check out this groovy vertical organizer from our Award-Winning Laundry Room!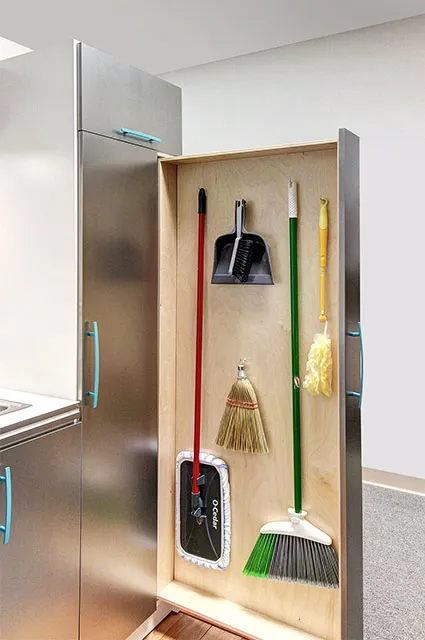 8. Where Do You Store Extra Cleaning Supplies?
If you are in need of more storage space for extra cleaning supplies, try using roll-outs! Instead of trying to see what lies deep within a cabinet, behind rows of bottles, boxes and containers, roll-outs slide in and out, making use of the entire depth of a cabinet. No more grasping or guessing what's on the back of your shelf. When you're done looking for the detergent or stain remover, just roll the drawer back in.
Interested in learning more about getting organized or The Closet Works' installations? Request a free consultation with one of our professional Designers today.