Tips for Cleaning Up Your Cleaning Supplies
Cleaning your house probably isn't on your list of things you enjoy doing. And being disorganized or dealing with cleaning supply clutter—when you're trying to clean and declutter your house—makes the process all the more dreadful. If you can't find clean sponges, or you misplaced your brush and dustpan, you might waste five minutes looking for them. Grrrrr. Organizing your cleaning supplies shouldn't take more of your time.
Here are some tips for keeping your cleaning supplies clutter-free and organized:
1. Keep Your Supplies Where You Use Them Most
While it may seem obvious, keeping certain cleaning supplies where you use them most can help you stay organized and even cut down on time you'd spend scouring the house looking for the bathroom cleaner, for example.
The next time you tackle a house-wide cleaning, move products to where you use them most and keep them there.
2. Stock Up on Storage Caddies and Bins
Caddies and bins are a quick way to organize supplies in cabinets, closets or under sinks. Grab a small bin or caddy and fill it up with related supplies.
If you keep a lot of sponges or wipes in one area, put them together in one bin and put other supplies like brushes and cleaners in another. Put small labels on the front of each bin so you have an easier time looking for what you need.
Caddies can also be useful for a day full of chores. Just grab the packed caddy and bring it with you while you clean to save time.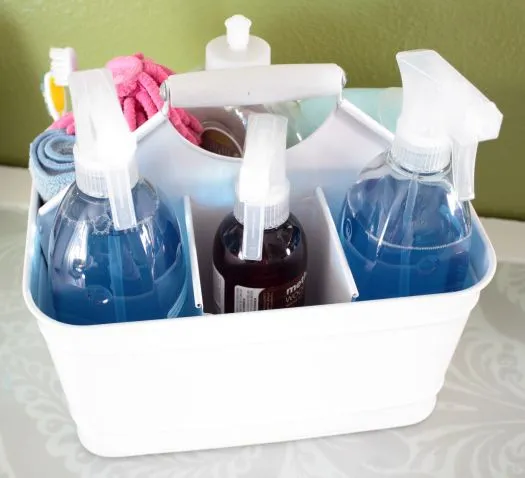 Image courtesy of Pinterest
3. Hang Rags and Gloves from Hooks
Add small hooks to the back of a cabinet door to hang gloves, wipes and rags.
These supplies, which often end up at the bottom of a bin or the floor of a cabinet, are easier to reach when they're hanging up—and if they're damp, they will dry much more quickly if not balled up in a corner.
Image courtesy of Pinterest
4. Or Add a Tension Rod
In small spaces like under a sink, add a tension rod to hang towels, rags and even spray bottles and brushes that you use regularly.
Put the bottle or brush handle over the tension rod and let it hang.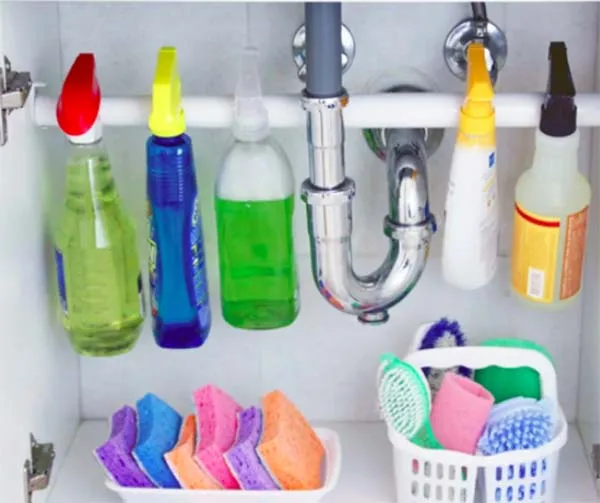 Image Courtesty of Bob Vila
5. Organize Supplies on a Lazy Susan
Using a Lazy Susan can help maximize your storage space and minimize the time spent getting what you need. Load it up with cleaner bottles and little bins for sponges and wipes.
Simply spin the tray around to get what you need, when you need it. This is perfect for small spaces like corner cabinets or narrow linen closets.
Image courtesy of Pinterest
6. Maximize Space with Small Shelves and Baskets
Whether you plan to keep some cleaning supplies in your laundry room or linen closet, you might be crunched for space.
A custom solution that includes just-the-right-size shelves and baskets can help you get the most out of a space you thought unusable. Instead, you can add storage that's wide enough for just a bottle or two of cleaner or a box of dryer sheets.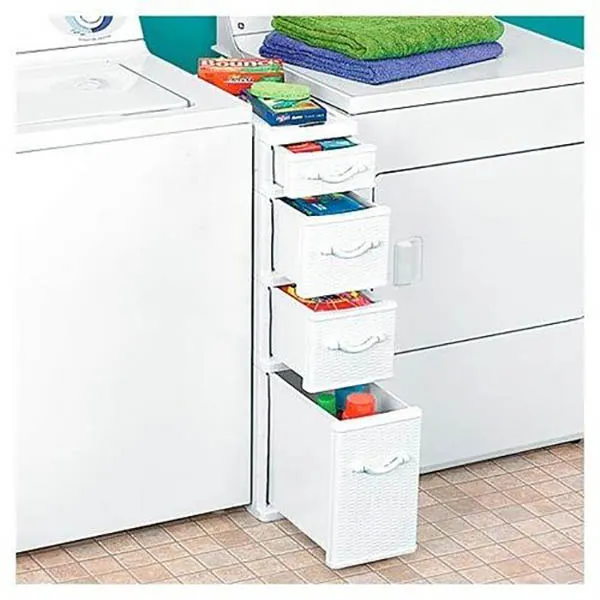 Image courtesy of Pinterest
 7. Hang Brooms and Mops
Brooms and mops that sit on the floor are not only more likely to get in the way or fall over, they can also collect more dirt, dust and mold.
Instead of leaning these odd-shaped tools in a corner, hang them from hooks. A custom solution for your laundry area or linen closet is a pull-out organizer that helps store anything with a long handle.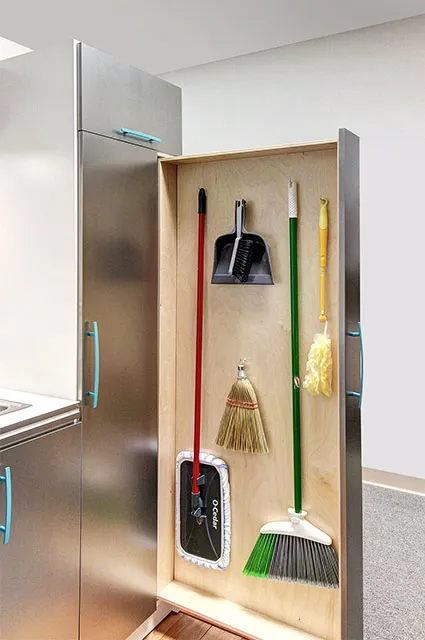 8. Add Roll-outs for Easy Reach
Instead of trying to see what lies deep within a cabinet, behind rows of bottles, boxes and containers, roll-outs slide in and out, making use of the entire depth of a cabinet. No more grasping or guessing what's on the back of your shelf. When you're done looking for the detergent or stain remover, just roll the drawer back in.
If you're ready for a custom solution that'll help you tame your cleaning supplies and make your chores easier, reach out to us to schedule a free consultation or visit our showroom.