6 Tips that Will Actually Help You Stay Organized
Your annual spring-cleaning marathon is over and hopefully, you made some progress on organizing your walk-in or reach-in closet, home office, pantry, garage or mudroom. But if you cleaned a month ago and you're already noticing more clutter buildup, you might start feeling discouraged. There's nothing like finishing a big organization project and finding things out of place so soon.
This isn't uncommon if you haven't integrated organization into your daily routines and come up with solutions that will help you not just get organized, but stay organized day after day, week after week.
You've got to think about organization a little differently to keep your house neat and tidy for weeks at a time. Here's how.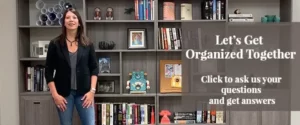 Define What Organization Means to You
We're not all Martha Stewart, and that's okay. Rather than feeling guilty that the books on your shelves aren't organized by genre and alphabetically by author or that the bed sheets in your linen closet aren't folded neatly, it's helpful to define what organization is to you. Stop comparing yourself to perfection on TV shows and magazines and figure out how you can easily make organization work for you and your family. Being more organized should remove stress from your life, not add it.
Identify Problem Areas in Your Home
There are likely areas throughout your house that have become common dumping grounds or stash areas. Think junk drawers in your kitchen, your entryway or mudroom, your kids' closets, the desk in your office. You leave one pair of shoes on the floor in your mudroom and two days later they've multiplied. Identifying and acknowledging where these problem areas are is a good way to help you begin getting organized.
Create a Place for Everything
No matter the room, it's important that everything has a home so it doesn't get left on your desktop, on the floor or the bed. For example, if you noticed that your kids' school bags and your work bag sit on the floor near the side entrance each day, add a heavy duty hook to the wall or a cabinet to house your school bags. Or if your shoes pile up at the bottom of your closet, making it difficult to find a left and right in the morning, add cubbies or shoe shelves.
What's Ongoing Maintenance? What's a One-Time Project?
Clearing old paint cans from your garage and taking them to a disposal center is a one-time project (unless you paint rooms for fun). But putting your shoes and coat away is a maintenance task, as is filing away mail. Rather than letting all of these little organization chores build up, look at them as tasks that take a few extra minutes each day. By building this time into your routine, you'll have a much easier time staying organized long-term.
Think Before You Buy
Make no mistake about it: Staying organized is not just about routines, it's also about how much stuff you have. Before buying another dress or pair of jeans, or before buying a new candle for a room, think about whether you need it and whether you have room for it. It's easy to buy new things because shopping makes us feel good. But being mindful of your belongings and creating an organized, low-stress environment can make you feel good, too.
Turn to the Professionals for Help
If clutter is taking over your life and adding stress, there's no reason you can't turn to professionals for help. Professional organizers are highly trained people who will take a holistic approach to helping you get organized and live a more efficient and stress-free life.
If you feel like you know how to stay organized and you just need the right tools, you could also turn to a professional designer at The Closet Works. Our pros will take a look at your home and your stuff and help you create a custom storage solution that will work for you. If you're interested in learning more, take advantage of our Sizzling Summer Savings and contact us today for a free, in-home consultation.