The Top 3 Benefits of Keeping Your Pantry Organized
If you've ever envied those gloriously organized pantries that you see on cooking shows, have we got some ideas for you. Pantry organization comes with a lot of little benefits, says the Lemon Bowl. Making home-cooked meals can be more enjoyable to prepare and can give you better control over which snack foods are handy for kids to grab in a hurry.
But those are more akin to extras; side-effects of organization, if you will. The major benefits affect your grocery bill and your space utilization, which saves money and keeps clutter down to a minimum.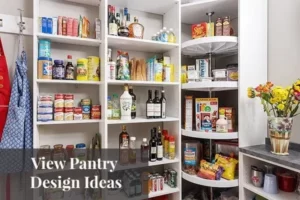 Here are three ways you can benefit the most be keeping your pantry organized.
Maximize the space you have
Reduce spoilage and duplication
Free up space in your kitchen
1. Maximize the Space You Have

Probably the most important reason to organize your pantry is to make room for everything that you need to store. A typical pantry with basic shelves doesn't do much for maximizing or organizing your available space; it's only the bare necessity, and you can do much better.
Static shelves rarely work as well as they should. Your shelves need to be adjustable, otherwise there can be significant wasted space since you can't modify the opening for tall boxes, large multi-packs or unusually shaped platters. Go for a customized approach with shelf spacing you control. This direction allows for a wider range of storage options, such as a built in Lazy-Susan which keeps items, their labels and ingredients easily visible and accessible since it rotates. Another space saving option includes making use of the space behind a door or other tight areas with shallow shelves for canned goods. Slots for trays or serving pieces, a rack for hanging tablecloths with a drawer above for storing napkins, roll-out baskets and even wine cubbies can be included in a custom layout. Now that's smart storage!
#2: Reduce Spoilage and Duplication
Food waste is higher than ever and the numbers are astounding. According to the Food and Agriculture Organization of the United States, the global volume of food wastage is estimated at 1.6 billion tons of "primary product equivalents." The total volume of water used each year to produce food that is lost or wasted is equivalent to the annual flow of Russia's Volga River, or three times the volume of Lake Geneva. The direct economic consequences of food wastage (excluding fish and seafood) total roughly $750 billion annually.
We can all do our part by taking a little bit of time each week to organize and go through our pantry. You will avoid waste by not having to discard expired products and save money by not buying duplicate items. Good pantry organization helps you rotate items toward the front, so there's less chance of something being forgotten in the back. If you want get the maximum shelf life for your products, keep dry ingredients in hard containers like glass, hard plastic or metal. Glass jars are great for storing grains, dried fruit, cereals, pasta and flour. For hard plastic containers consider housing items like energy bars, chocolate, crackers and nuts. Good ideas for tins include coffee, spices, tea, and noodles. Most food will have their life extended if kept in the freezer.
#3: Free up Space in Your Kitchen
Reach-in pantries might not be big on space, but better organization can still free up more room. That's a real boon in the kitchen, especially if you also have limited cabinet space. Instead of storing seldom used (but beloved) small appliances in your base cabinets or on the counter, a great pantry organization system can help you tuck some of those things away in a less obvious area. Bulky items like tablecloths and trays can be stored in roll-outs.
You might also find that there's room for things you'd never imagine. That's especially true in a walk-in pantry. How convenient might it be to have a cart inside where you can set down grocery bags instead of putting them on the floor to unload? A big rack overhead can store oversized stock pots and that wok that you swear you'll use one day, without interfering with the rest of the pantry. Many kitchen utensils have a notch on the handle for storing on racks which free up counter space and limited drawer space.
Pantry organizers of the generic variety are a dime a dozen. But a custom-designed organization system is like magic for your kitchen and can be realized affordably. Check out more of our pantry design options. From clever corner shelving, wine racks and slide-out drawers to linen storage and adjustable shelving, there's practically nothing that a new pantry can't do. And because it's all custom designed for your home, you'll get the right dimension exactly (and only) what you need at an affordable price.
If you're dreaming of a smarter and better organization system for your pantry, schedule a free design consultation with us today.