The Top 3 Benefits of Installing a Custom Bed
It can be a pleasure to have overnight guests in your home, but sometimes the reality of making that happen can be a bit more complicated. If space is limited, creating a great environment for your guests is not always as simple as it appears in decor magazines and on websites.
A custom bed, however, could solve all of your problems, plus add more style than you imagined. There's a whole world of possibilities available to you.
Here are the top three benefits of installing a custom bed in your home.
1. Guests feel more comfortable
2. A room can serve a multitude of purposes
3. Limited floor space isn't a problem
(The bed below takes up less than 8 square feet of floor space when stowed.)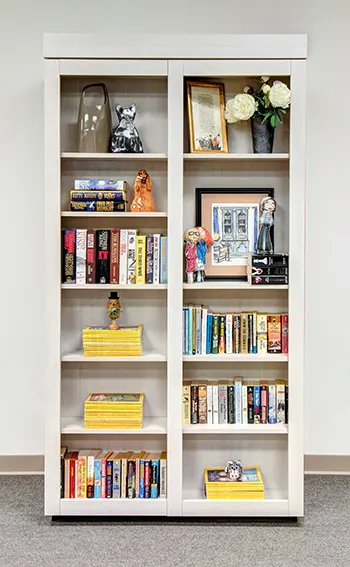 1. Guests Feel More Comfortable
No matter how much you love to entertain your friends and family, setting up guest sleeping quarters can be tricky. Sleeper sofas aren't always comfortable or easy to open and close. An air mattress on the floor isn't the greatest idea as it's often not easy to get down to or get up from, especially if your guests aren't children. And other options, such as futons or cots, have to be assembled and disassembled and are just inconvenient.
A custom bed tucked inside beautiful cabinetry turns any room into an inviting place to get a good night's rest. These aren't the old-fashioned pull-out beds with thin, lumpy mattresses and framework poking through. No, today's murphy beds have plush mattresses. Open cabinet doors and reveal what your guests were hoping for: a comfy, inviting place to sleep that's so very easy to use.
2. A Room Can Serve a Multitude of Purposes
A home office might be a busy place, especially if you're one of the millions of people who now work remotely, or it might just be the room where you handle household business. Either way, many homes make you choose between an office or a guest room. Custom beds mean that you don't have to. Not only that, you can also get handsome storage furniture in the same unit.
The murphy beds that The Closet Works offers give you almost limitless choices. Regardless of your taste, a murphy bed unit with the option of bookcases, cabinets, drawers and more can make your office look and function just like a commercial office (minus the distractions!) Then when you have guests, the unit transforms into a cozy bedroom in a matter of seconds. If privacy is a concern, we can even add desk drawer locking mechanism to keep your private business secure.
3. Limited Floor Space Isn't a Problem
Anyone who has lived in a small apartment knows that the struggle to make furnishings fit can be a tough one. In a studio apartment, it's even more challenging. Either the bed becomes part of the decor, or you're forced to sleep on a pull-out sofa. Once again, murphy beds solve everything, and they do it with style.
A bed can tuck inside nearly any style of wall cabinetry. Imagine a broad and tall entertainment center, perhaps one that also has a writing desk and bookshelves. Now imagine that behind two doors stands a comfortable bed that folds down, and you never see it until you want to. Your living room or studio apartment can look like any other room by day and feel like a bedroom at night.
All of our murphy beds can accommodate real mattresses that rest upon curved slats and are available in either twin, full or queen size.
Interested in learning more about murphy beds or more possibilities from The Closet Works? Request a free consultation with one of our professional Designers today.