Top Home Organization Mistakes to Avoid
You get home from a busy day at work and drop your workbag and shoes just inside the door. You drape your coat over a chair and put your keys on the kitchen counter. And you hurriedly stash a few items your kids left on the kitchen table in your designated "junk drawer".
By following these routines, you might think your home is organized. But it may actually be harder to find things when you need them and to generally maintain order, which only makes daily life more stressful.
Here are some home organization mistakes you might be making and how to avoid them.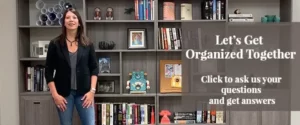 Messy entryway
The first thing you see when you open the door and the last thing you see when you leave your house. If it's cluttered with piles of shoes, a jacket or two hung on the door knob and a lineup of school and work bags, your entryway can contribute to getting the day started on the wrong foot.
Instead, reorganize your coat closet and add some hooks to keep bags, coats and scarves organized. Or, consider springing for a custom mudroom or entryway solution that includes baskets for outdoor gear and sports equipment, cubbies for shoes and plenty of hooks to hang items.
Disorganized junk drawer
Everyone's got that one drawer in their kitchen or office where things that have no other "home" simply get stashed. But throwing something in a drawer doesn't mean it's organized.  A disorganized junk drawer makes it harder to find everything from that extra roll of tape to your phone charger or your extra set of keys. We're not asking you to get rid of this handy catchall space in your home, but we are suggesting you clean it up.
Add a drawer organizer to create dividers for different groups of things. It'll keep you from scouring everything each time you're looking for something simple like a notepad. And, if you've got a lot of devices to organize, you can also dedicate one space to become a docking drawer so everything can be charged at once.
Overstuffed pantry
The box of pasta hiding in the back of your pantry is two years out of date. And your spices are anything but fresh. Overstuffing your pantry makes it harder to find what you need and almost guarantees you'll end up buying more dry food than you need. Organizing your pantry and finding a good strategy for storing not only food, but trays, tablecloths and bulk items will help you get a better view of what you have and be less wasteful.
Shopping before you purge old clothes
Reviewing the clothes and shoes you have before you buy new items is the best way to stay organized when it comes to your closets. Review your wardrobe each season and consider donating clothes that are beyond repair or that you won't wear anymore because they're too small or are lower quality than what you buy now. Similarly, clean out your linen closet and donate old towels, sheets, quilts and blankets you no longer have a use for. You'll free up space, making it easier to find everything in your closet. And chances are, you'll rediscover something you didn't remember you had.
Getting comfortable with clutter
If your home is constantly cluttered, you'll eventually begin ignoring the mess. This might seem like an adequate solution; however, your cluttered rooms make it more difficult to find what you need and remember where you put things. If you maintain an organized home, you'll enjoy more peaceful routines.
If you're interested in some custom organization solutions to help you evade these organization pitfalls, reach out to us for a free, in-home consultation.