Top Tips for Creating the Custom Craft and Hobby Room You've Always Wanted
Do-it-yourself and handmade items have dramatically increased in popularity in recent years, boosted by the creation of online-maker-marketplace Etsy. Of course, not all who make crafts sell their wares online. And every hobby is different.
But every crafty person dreams of having the perfect space that fosters creativity, inspires design—and keeps every craft material organized! The answer is taking that spare bedroom or even a nook in your house and creating a completely custom craft and hobby room so you can relax, get inspired and create.

Because each hobby is different, DIY-ing a craft room with cabinets and drawers might be difficult. You might need a custom space to store your sewing machine or spread out material on a large work surface.You might need to stock your space full of colored paper or washi tape, or keep thread or yarn neat and organized. So it's important to find storage solutions that meet your exact needs without wasting a lot of space. It's why a completely custom solution is really the best option.
Here are some tips to creating the craft and hobby room you've always dreamed of—one that helps you be productive and creative.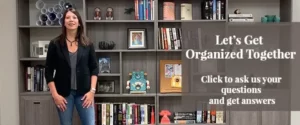 1. Create the Right Workspace for Your Craft or Hobby
Whether you're scrapbooking or sewing, painting or decoupaging, you need the right—and the right amount of—workspace. A custom craft room solution enables you to create a large work area with enough room to spread materials out and create whatever you want. Workspaces can be rectangular or L-shaped, flat or angled, and made from a number of materials and finishes that suit your needs.
Custom craft rooms can include a workspace that's the right height for sitting or standing—making your crafting experience as comfortable as possible. And if your kids will be involved in crafting, or if you'd like to give them their own space, custom solutions can provide multiple height surfaces for the little ones in your family.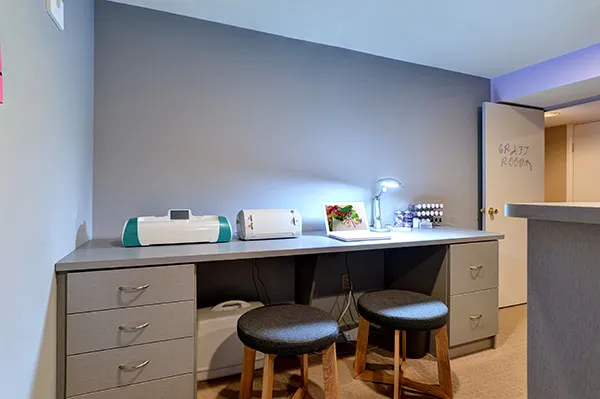 2. Use Wall Space for Inspiration and Storage
If you're devoting an entire room to your craft or hobby, it's got to be a space that promotes creativity and lets you explore your craft everyday. To create a truly unique and creative space, your walls should serve a dual purpose—storage and inspiration.
A custom solution can provide hanging rods for fabric, ribbon and rolls of paper or shelving that are the perfect depth for storing small beads and buttons. And slatted wall storage lets you hang hooks for hole punches, scissors, small containers and more.
Using wall space effectively for storage in some parts of your room ensures that you can also hang inspiring photos, art and crafts in other places—or even make room for a pegboard, chalkboard or whiteboard.
3. Hidden Storage, Open Storage… The Right Kind of Storage
We know that what you're creating is completely unique. This means that the materials and equipment is also unique…and the way you store it needs to be unique. If you're using a sewing machine or paper cutter frequently you'll likely want that in an easy-to-reach cubby near your workspace. Or you might even want a large work surface where it can "live" all the time.
Slide-out drawers can provide the right kind of hidden storage that's so easy to reach—more rooting around in the back of a drawer for the right piece of scrapbook paper or fabric swatch. And if what you work with is small, custom drawer organizers can help you keep jewelry supplies separate or help you keep colored pencils in one spot and felt-tipped pens in another.
Finally, cubbies. Cubbies are the favorite among many crafty people who have lots of materials to store. The great thing about custom cubbies is they can be configured in a number of different ways and can be any size you need—from small, narrow cubbies that hold little jars of beads, knitting supplies or small containers of paint, to larger cubbies for paper, yarn or even woodworking tools.
When you add cubbies, slide-out drawers, organizers and the right workspace, you can combine these custom elements to create the best possible craft or hobby room—the space you've always dreamed about. Contact us today for a free in-home design consultation.