Top Tips for Keeping Your Garage Neat and Organized
The garage ranks high along with the basement for spaces where families tend to dump things they don't know what to do with.
It's easy to store a box you never unpacked, some outdoor equipment or some unused paint in your garage and simply ignore the fact that it's there when you pull in your car each night.
But the clutter becomes more difficult to ignore when, for example, you're stuck clearing snow off your car or running out to your driveway during a downpour because you've filled your garage with too much stuff.
You can't ignore your messy garage forever; and in fact, spring is an excellent time to clean and organize it. It's not too hot, and you'll probably need to get to items in your garage like lawn and garden equipment and your kids' outdoor toys.
Here are our top tips for organizing your garage so it stays neat and tidy.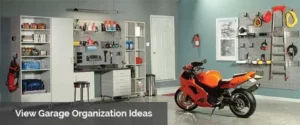 1. Clean and Sort Everything
If you actually do park your car in your garage, pull it out into the driveway or, better yet, park it on the street so you've got plenty of room to clean out your garage.
Unload everything first, even the boxes that haven't been emptied since you moved in eight years ago. It might be helpful to lay a few tarps on the ground to protect your goods while you do this. Arranging specific piles of your stuff on tarps is also a helpful way to force yourself to keep a smaller number of items—keep only what you can fit in a given area.
Sort your goods into a few piles—what you want to keep, what you'd like to sell or donate, and what should be thrown out. Importantly, if you're getting rid of paint, paint thinner, used motor oil or household chemicals, be sure to dispose of them properly.
After the space is organized, you'll have plenty of room for a garage or yard sale to get rid of those unwanted items at a later date.
2. Figure Out How You'll Organize Your Stuff
Garages typically house a unique mix of car-related items, tools, gardening equipment, bikes, kayaks, fishing gear, snow removal tools, beach items and more. It can be a challenge to figure out how exactly to store everything.
To give things their own place, you might want to consider a custom garage storage solution with options to store a wide range of items.
A design professional can create a plan that affords you enough space to add a workbench with drawers and cabinets for tool or hobby storage. For the gardener in your family, you could also add a potting area with a work surface.
During the cleaning phase, you should inventory any dangerous chemicals to see if they're still usable. Then you can add locked cabinets to keep those dangerous chemicals and sharp tools safely away from curious kids.
The garage is a prime area for storing sports equipment like bikes and skis and gardening tools like a hose or rake, which can all be stored off the floor with wall racks. You can also add baskets for bulky things like balls, gloves, masks or pads.
Cabinets, both with swing-out and sliding doors (if space is tight when cars are parked), can house many other items you need to store like bottled water, things you buy in bulk or even outdoor furniture accessories.
3. Find a New Home for These Items
Consider a new home for some items which are best stored in areas other than your garage.
Paint should be stored inside where the temperature remains somewhat consistent. Store it out of reach of children and pets in your basement or a closet.
Propane tanks shouldn't be stored in your garage; a spark could ignite the tank. Instead, store the tank upright and outside in a well-ventilated area away from any ignition source.
Paper towels, plates, napkins, cardboard and other paper goods are better kept in your pantry if the packages are open. Storing them in your garage could attract bugs. They could also get damaged by moisture.
Pet food also belongs inside; storing it in your garage could attract mice, rats, possums and other creatures you probably don't want hanging out there.
While your initial garage organization effort may not be the most fun chore, you'll be glad you tackled the clutter and created a better storage system later in the year. Rather than spending precious time searching for your kids' bikes and skateboards, you'll be able to easily find them and enjoy yourselves. That is just one of the many benefits to an organized garage.
If you're interested in learning more about organizing your garage, reach out to us for a free, in-home consultation.