Traditional Beds Are Boring, You Deserve A Custom Bed!
Taking the bed out of the traditional bedroom might sound like a foreign concept, but there are plenty of reasons families and singles alike are choosing to do just that. The problem with that, though, is that traditional beds don't always fit with the function of the rooms they're moving into. This is why it's important to look for options that allow the space to function as needed during the day and then, can be brought out for use at night.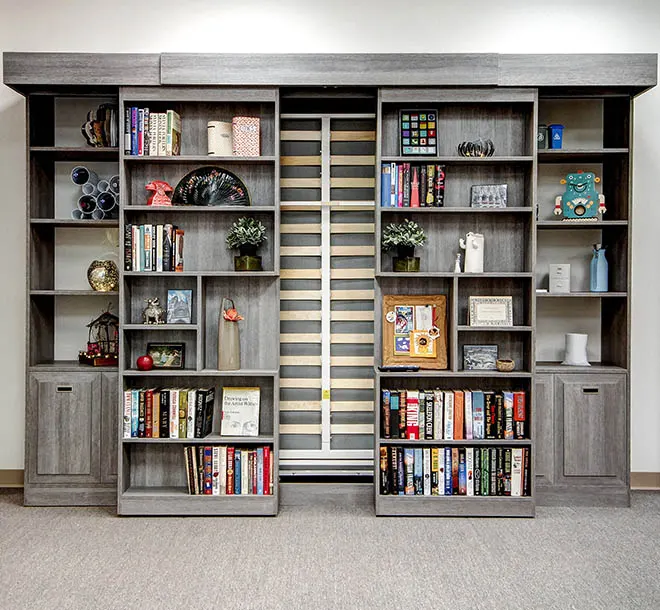 Why Bring Beds out of the Bedroom?
Different people have different reasons for doing so. Sometimes it's a matter of having a sick partner and needing to sleep in separate beds. For example, there are people turning to in-home health care due to matters of cost and of preference. Therefore, it's no surprise that spouses will need to sleep in different beds to promote healing and reduce risks of contracting contagious illnesses.
Snoring partners have also been known to drive people out of the bedroom in order to get a good night's sleep. Unfortunately, if you don't have a guest bedroom or a designated space for sleeping separately, sleeping arrangements can become problematic.
That's where the space saving murphy bed comes into the picture. A murphy bed can be incorporated into any décor and fold away neatly, so it's completely hidden during the day. This means you can transform a den, home office or other room into a dual-purpose space.
This particular set-up below shows how you can have a comfortable bed and functional home office in less than one hundred square feet of space!
Who Needs a Custom Murphy Bed?
It's your space. You can take control and get more out of it with a high-quality custom-built murphy bed. But, do you really need one? You'll be surprised by the number of people and living situations that call for the benefits these beds have to offer.
College Students and Young Professionals – many people in these situations live in either tiny apartments or studios in order to stretch their dollars. This means that space is a premium and some rooms may serve multiple functions. Murphy beds can be individually crafted to meet your unique living arrangement and study or work needs.
People Who Need Occasional Guest Space – many people can't afford to devote an entire room to a guest suite. Murphy beds allow homeowners to create guest space that is both comfortable and out of the way when not in use.
Benefits of Murphy Beds
You may be wondering why it's a good idea to make the investment in these beds instead of simply purchasing a futon or a pullout sofa. The problem with both of those options is that finding considerable quality in either is difficult. Also, finding comfortable options is almost virtually impossible. These are just a few of the benefits murphy beds have to offer.
Comfort:This is a regular bed with a real mattress. That makes it a comfortable place to sleep whether you're using it every day or as an occasional guest bed.
Convenience:Murphy beds are there when you need them but fold neatly out of the way quickly and easily when not in use.
Customizable:These beds can be built to your specifications – to meet your specific needs and your design and décor tastes.
Versatile:Murphy beds can be used for one or more functions, such as a bookcase, making them highly versatile pieces of furniture for any home.
Interested in learning more about murphy beds or more possibilities from The Closet Works? Request a free consultation with one of our professional Designers today.