Transform Your Walk-in Closet into a Personal Boutique
When you build a walk-in closet, the design possibilities are seemingly endless. Not only can a designer create a closet that gives your entire wardrobe—and anything else you need to store—its own space, you can also build a closet that goes beyond just a place to keep your clothes. You can showcase your clothes and accessories and create an inviting personal boutique.

A custom walk-in closet is designed to your specific requirements and provides shelves that are just the right width for a few pairs of shoes, cubbies for your flats and sandals, enough hanging space for every dress you own (and your work clothes), and plenty of drawers for smaller garments and accessories.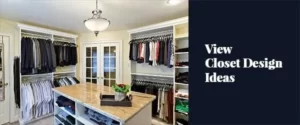 But a personal boutique means your closet is a not just a place to keep clothes—it's a place to try on outfits, showcase your favorite pieces, get ready in the morning and even relax.
Here are our favorite ways to push your closet beyond functional and transform it into something glamorous.
1. The Right Lighting
Your custom walk-in closet needs to keep your stuff organized, sure. But it also needs to be an inviting space. One way to make a room feel warm is with lighting. Recessed lighting can brighten the room, and puck lighting over a dresser can light a mirror or custom fabric tack board on the wall just above the dresser top.
LED light strips on the inside edge of a cabinet can both illuminate shoes or handbag shelves and create more visual interest.
But what separates a typical walk-in closet from a fabulous design showcase is statement lighting. Whether it's a series of hanging pendant lights that line a long, narrow space or a dramatic chandelier that hangs above a center island, statement lighting can add some wow-factor to the space.
2. Glass Doors and Shelves
If you prefer your walk-in closet to have doors rather than open shelves, clear glass inserts can turn your shelves into glass cases where you can display your favorite handbags or designer shoes. Glass cabinet doors help you show off your luxurious accessories while keeping them clean and free from dust.
To add an even more high-end boutique feel, you can also use glass shelves to highlight featured pieces. Adding focus lights will make that Chanel bag stand out and your favorite Badgley Mischka shoes shine.
3. A Center Island
If you've got a room devoted to your gorgeous wardrobe, a center island provides another practical and glamorous storage space. You can take advantage of what is sometimes wasted space by providing additional drawer storage as well as countertop space to display a decorative vase or piece of art, fold clothes, pack a suitcase or piece together an outfit.
A custom center island can include drawers with dividers to store jewelry, sunglasses and small accessories and clothing, or cubbies to store hats or sandals and flats.
4. Seating
To make your walk-in closet truly functional, seating is a must-have. A plush ottoman, a built-in bench at the end of your center island or even a comfortable window seat will enable you to use your closet as a dressing room.
When it comes to choosing the fabric for your seating, your imagination really is the limit. Your design consultant can help you choose a fabric that matches the style of your closet.
5. A Vanity
Another element that can make your closet feel more like a personal boutique than just a closet is a vanity. A good vanity should include lighting to illuminate your face and hair, a mirror (either flip-top or one attached to the wall above the vanity), drawers to store makeup and grooming tools and seating.
6. Pull-out Valet Bars
When you get home from the dry cleaners with your refreshed clothes, you should avoid hanging your expensive suits and dresses up while they're still draped in plastic. Instead, you can use a pull-out valet bar to transfer clothes to your good hangers before you put them away, or use it to plan out an outfit for the next day. It's a small, yet incredibly functional, closet accessory.
7. Mirrors
You can't have too many mirrors in a walk-in closet. Obviously, they're helpful while you're getting ready, and as a bonus, they'll make the space look bigger.
With a custom closet design, you can create a three-way mirror from three door panels that fold out. You can also add a decorative tabletop mirror to your center island or include a standalone floor-length mirror to your dressing area.
And if you're short on wall space, you can even get a full-length mirror that flips out from a long hanging storage section when you want to use it and folds out of the way when you're done.
8. Flooring and Area Rugs
If you're building your walk-in closet from the ground up, you've got full control over the flooring in your space. Depending on your style and the flooring in adjacent rooms, you might choose carpet or hardwood floors.
Hardwood floors can create a boutique-like feel, and adding an area rug can create added warmth and texture to the room. An especially plush area rug that might not be practical for more high-traffic areas in your home could be perfect for your personal dressing area.
Adding these special features to your walk-in closet can take the space from functional and organized to a lush dressing room that most people only dream of.
If you want to create a personal boutique out of your closet, reach out to us for a free in-home consultation.