Transform Your Walk-In Closet into a Multi-Use Space
When you think of your dream walk-in closet, you probably picture slanted shoe shelves, lighted display cases, and an array of clothing hanging from bars high and low. 
Your closet is an ideal place to choose your outfit for the day or change into your comfy clothes at the end of a long day. But did you know your closet can be so much more than a place to store your favorite pieces? 
At Closet Works, we pride ourselves on our creativity. A walk-in closet is a place to keep your clothing pristine. It's a space where you can get ready for your day. It's a place to finish chores and ensure you have the room to be productive.
Ready to create your dream multi-functional space? Let's talk about the many ways you can utilize your walk-in closet!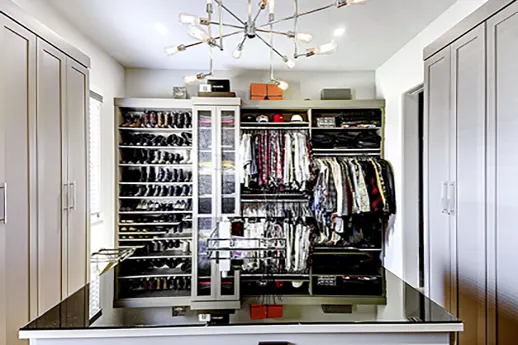 First Use: Clothes & Accessories
This is the most common function many look for in a walk-in closet: a space to keep clothing looking beautiful and store clothing between seasons. 
One thing that sets our closets apart is that we prioritize the importance of floor space, which is why we suggest storing your shoes in cubbies or slanted shelves to avoid unnecessary bending or clutter. This will also keep your shoes in great shape and ensure they last for years to come. 
Drawer dividers are great for storing smaller items like undergarments and hosiery. With drawer dividers, one drawer can be used to store multiple styles and types of items. This is where space-saving meets functionality. 
What about your jewelry? Necklaces often get tangled and even earrings can get caught up in the mess. Jewelry dividers are great for keeping cherished and expensive pieces from knotting or breaking. 
Second Use: Getting Ready
Whether you're getting ready for a day of meetings in the office, a night out with friends, or for bed, your closet is the perfect place to get ready. Having a vanity area in your closet will save you time and keep your products from getting damaged. 
Did you know steam from hot showers can damage expensive makeup and cosmetics? Storing them in a cool, dark place is the best way to keep them from melting or expiring early. 
With a vanity, you have the ability to add custom lighting. Bathroom lighting can be harsh and bright, so when you walk out the door, it can sometimes look like you've applied an entirely different set of products. You deserve a dedicated space to take your time, without rushing out the door because you're getting ready in a shared place with the rest of your family. 
Third Use: For Chores
Having an island in your walk-in closet can serve many purposes. It's extra counter space for planning outfits. It's a convenient place to pack for a trip. It's also a great spot to finish up chores. 
When it comes to putting laundry away, all you need to do is bring your clean clothes up to your multi-functional walk-in closet and place your basket on the island and start the folding process. Once the laundry is finished, it takes practically no time to move your folded clothes to your drawers or hang clothes on their rack. 
A custom walk-in closet is an investment that can save you both time and money. Prioritize keeping your clothes in great condition while giving yourself the resources you need to prepare for a great day. 
Ready to start your mornings off right? Click here for your no-obligation consultation to streamline your routine!