Ways To Organize Your Life In the New Year
You know what time it is—a time for fresh starts, new beginnings, and big goals! Making New Year's goals is important and can help make your year one for the books. The kicker is that all of these things can happen only if they're implemented right. That's where we come in! 
Here are some of the best tips to make sure you reach your 2022 goals.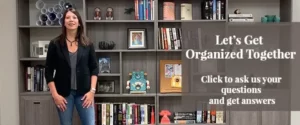 1. Start with the Right Headspace 
Sounds too easy, huh? Well, this step may be one you want to breeze over so you can jump into the nitty-gritty of gym time and organization, but preparing yourself for a year of change is important. Change is tough in any circumstance, so mentally preparing yourself to put in the work is the catalyst for action. 
2. Determine What Goals You Want to See Achieved 
Are they home organization-related? Health-related? From there, ask yourself questions about the area you want to see improvement in: Is there a place in my home I never feel is organized enough, no matter how much I do? 
Once you nail down the specifics of what you want to accomplish, you can then break those aspirations down into smaller and more digestible steps. Your goals ARE within reach! 
3. Clean Up Your Cleaning Supplies
Calling all homemakers! This is a tip that applies to everyone, regardless of where your resolutions fall. It may sound redundant, but clean up your cleaning supplies.
Whether or not deep cleaning your home is a New Year's goal, it will be something you have to do throughout 2022 either way, so get your supplies in shape. Purge old or nearly empty supplies you've had laying around that don't get used so you have less of an overwhelming selection to work with. Find the best place for your supplies so you don't misplace them. Then let us help you figure out how to maximize small spaces so sprays and rags are ready to go when a spill or mess happens. 
Learn more about cleaning up your cleaning supplies.
4. Get the Kids Ready
Winter break is almost over. Whether you're sad or celebrating that the kids are going back to school, this one's for you! 
One way to make sure you have the time you need to focus on your 2022 goals is to get the kids' supplies ready to go ahead of time. Collaborate with your child and do a supplies re-up. Do they have enough pencils and hand sanitizer? Make sure they have what they need for the second half of the school year. Keep the rest of the supplies your child may need somewhere they can easily grab them. Pull-out drawers are a great place to store those essential grab-and-go items, especially with built-in dividers.  
Read more helpful school supply storage tips.
5. De-Clutter Your Closets 
Need to get your closet in shape? One of the most helpful tips when it comes to closet organization is to figure out what you're working with! Since your deep spring cleaning, you've probably accumulated some 'back-of-closet clutter.' These are the items that aren't being used as much, or at all.
Before you dive into shelves and folding techniques for optimal storage, make sure you're not working with more than you need. Take some time to get together a donation bag of clothes (or any item that's not being used) and shed some much-needed 2021 baggage! Have every member of your household do the same. 
Want to take it a step further and create the closet of your dreams?
6. Organize Your Laundry Room
Now with all those extra unused pieces donated, laundry time can be a breeze! Laundry is one of the most redundant tasks we have to do, but clothes are important. They keep us warm while allowing us to express ourselves to the world around us. 
Keeping your laundry room in tip-top shape can bring functionality to you and your home! Every home will have a different set of laundry room must-haves. With bigger families, it's important to make sure you have enough storage for both dirty and clean clothes, detergents and softeners, an ironing board, and more. One of the ways we suggest keeping your space running as efficiently as possible is to utilize vertical storage. 
Here are some hacks if organizing the laundry room is a big goal for you in 2022.
Remember the saying, "You're only as good as your mindset." Your goals are within reach and attainable. Get your mind and home in the right place to accept the changes and before you know it, you'll look back and realize 2022 was your year. 
And remember, asking for some help is never a bad thing. There are tools in place to make your dreams more attainable. 
Give us a call to schedule a free consultation so we can help you bring your dream home to life, or request a free consultation here!