What Do the Specs in Your Custom Closet Proposal Mean?
The Specifics of Closet Specifications
The average consumer who is interested in buying almost any product is typically at the mercy of the sales person who is providing information and the reasoning behind why their specifications are superior. In our last article, we discussed the importance of comparing apples-to-apples in the proposals you receive, but what exactly are you reading?
Let's break down exactly what you should be reviewing in your custom closet proposal to get the most value of your purchase.
Board Type
Closet organizing systems can be made from many different materials. The best choice is a thermofused, melamine laminated, industrial grade particle board. This gets a little technical, but you need to understand the following to ensure you are getting a quality product.
Quite often the melamine laminate is thermofused to a particle board substrate. It is important that the laminate and board be thermofused rather than cold-rolled or pressed in another fashion because it affects durability. It is virtually unheard of for melamine that is thermofused to delaminate and the abrasion-resistant qualities are quite good for this type of application.
Unless you are planning on doing your job in either pre-finished or custom finished veneers, melamine laminated board is typically the best choice.
A note on other board types: Veneers are very costly, harder to work with and, because they are natural products, harder to match in terms of grain and color. You may also want to avoid using painted particle board or even plywood due to difficulty in cleaning them, as well as the fact that in a painted wood product, the grain can rise and snag fine fabrics potentially causing damage to your garments.
Board Thickness
While some companies use 1/2" or 5/8" thick board, we strongly recommend 3/4" thick board. Companies using thinner board will tell you that it doesn't matter, but it does. Board that is 3/4" thick is stronger, more rigid and shelves deflect less over any given span. Also, the extra 1/8" purchase available for screws and fasteners improves the integrity of the system significantly.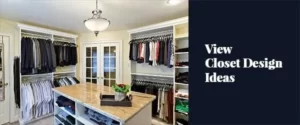 Edgebanding
The majority of custom closet companies utilize a PVC edgebanding material that is .018". That is eighteen thousandths of 1" thick. It is commonly used because it is quite inexpensive and readily available, but it does not provide sufficient protection for the edge of the board.
It is far better to find a company that uses 2mm or 3mm edgebanding. This thicker material is much more robust and protects your investment from unsightly chips. It is also less likely to peel. Melamine laminated board is quite durable and wears quite well in those applications for where it's use is intended however the vulnerability is the edge.
When the edge is protected by a thin edgebanding, it doesn't take much to cause a chip and a thicker edgebanding will help maintain the appearance of the product over its lifespan. Most closet companies that use the thinner .018" edgebanding material will never point this out, so it is up to you to ask how thick the banding is and make sure you are getting the superior product.
Hardware
Drawer slides should be the full extension, ball bearing type and should be rated a minimum of 7 pound capacity for typical drawers, and 100 pound capacity for drawers that will bear a heavy load holding such items as photo albums or your coin collection. File drawer slides should be a minimum of 100 – 150 capacity depending on the size of the drawers.
Insist on concealed European style hinges for all doors (a soft close feature is a nice touch) and metal door/drawer handles or pulls rather than plastic ones. Sometimes decorative hardware, such as pulls, can be glass or acrylic, but for a simple installation, metal is better than plastic.
It is also a good idea that the closet system, if it's floor mounted, be situated on adjustable leg levelers rather than furniture wedges. First, the adjustability factor is good to have and sometimes the wedges can move or slip and your closet will suddenly be out of level. Two screw in levelers on each vertical panel (not necessarily counting the one at the highest point on the floor) should do the trick.
These are just a few of the factors to consider when reviewing the specs on your custom closet vendor proposals. If your salesperson isn't fully explaining the choices they've included, you now are equipped with the questions to ask to ensure you are happy in the long run.