What You Should Store in Your Laundry Room
Lugging laundry to your washer and dryer, separating clothes, making sure everything is laundered according to its label, folding clothes and putting them back is one of the more time-consuming and tedious tasks you're likely stuck doing at least once a week—if not more. But having some sort of laundry room in your home—or just a small nook—can make it much easier to corral clothes and get laundry done in a more efficient way. Clearly, you should keep your laundry detergent near the washer and dryer, but what else should be stored there?
Here's what you should keep in your laundry room to make cleaning your clothes a little easier each week.
1. Laundry supplies
Let's start with the obvious: keep your laundry detergent, stain remover, fabric softener and bleach nearby in a cabinet above your washer and dryer. If you're short on space, a slim cabinet with roll-outs that take advantage of the depth of the cabinet could work.
2. Cleaning supplies
We're big advocates of storing things where you use them. An omnitrack with hooks near  your washer and dryer can hold paper towels for spills and other cleanup. You may also want to keep hand soap nearby if you've got a sink, as well as all-purpose cleaner, glass cleaner and any other cleaners you use in or near your laundry room.
You can also store your dustpan, mop, gloves, broom and other cleaning tools right in your laundry room with a roll-out storage area and some hooks.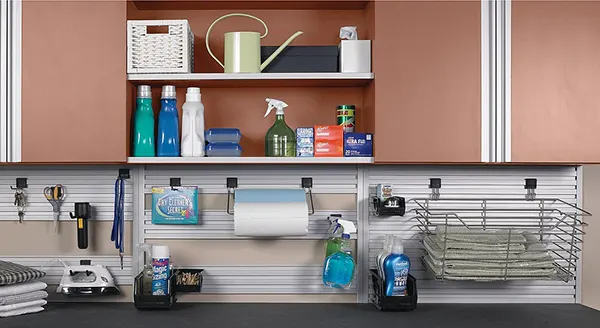 3. Linens
Your laundry room can be a great place to store some old towels just in case you need to clean up a mess. It can also serve as a backup storage spot for other linens that don't fit elsewhere in your home. Towels and other linens can be stored in cabinets, in a wire basket or on custom shelves.
4. Ironing board, iron and supplies
Ironing is another chore that many people loathe—but one thing that can make it a little bit easier is having your ironing board, iron and any supplies within easy reach. A wall-mounted or drawer-mounted ironing board in your laundry room can make it easier to iron your clothes before they ever go back in your closet.
5. Drying rack, rod and hooks
Delicates that can't go into the dryer are usually meant to dry flat so they keep their shape. Adding a pull-out drying rack to your laundry room is a great way to help your garments keep their shape and dry without getting ruined on a hanger or in the dryer.
For garments that you may want to hand wash and drip-dry, a rod installed over the sink is the perfect place to hang things while they dry—or after they're pre-treated with stain remover.
Finally, hooks or a valet bar are perfect for hanging a variety of things like mesh dry-cleaning bags or totes or organizing freshly laundered clothes.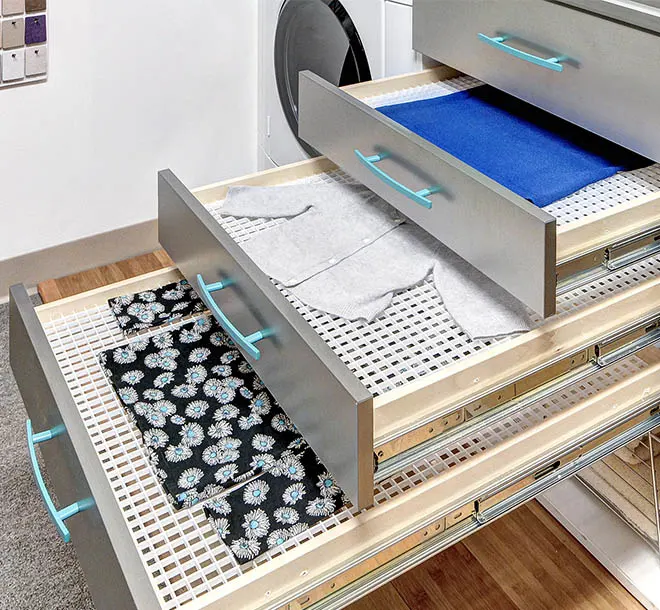 6. Hampers and baskets
Outfitting your laundry room is one way to separate your clothes into lights, darks and dry cleaning before they hit the washer. Add a few tilt-out hampers or a roll-out removable hamper that's easy to lift out when you need to carry clothes from one spot to the next.
If you're ready to create a laundry area that'll help you work more efficiently, reach out to us. We'll take a look at your space and help you add storage and stay organized. Schedule a free, in-home consultation.