Where to Find Great Closet Organizer Ideas
Winter is approaching and it's time to start moving some of the summer stuff out of your overcrowded closet and schlepping in the warm winter woolies. Wouldn't it be easier if you had some killer closet organizer ideas that might lessen the need for so much changeover as well as enabling you to get more stuff in your closet in the first place?
Sure it would, so sit back and focus on where to get the best closet organizer ideas out there.
View Closet Design Ideas with a Click of a Button
You don't have to look too far. Actually, you just need to log onto our website and check out the online showroom. There you will find great photographs that depict terrific closet design ideas that will help you increase your closet space dramatically with almost no effort on your part at all.
That's actually the key – little effort on your part! You see, closet design is a specific skill and it takes a trained designer to maximize the space that you have and turn it into the most efficient storage space possible.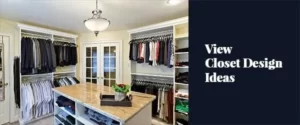 Meeting Your Expectations
We often encounter customers who start out by telling us they know exactly what they want. The reality is they may know exactly what they want to accomplish but as to how to get to point A from point B is the trick. And you can't do that with an off the shelf "modular" closet system or a design from a carpenter or a handyman. You need a custom design, created specifically for your space and your belongings that will utilize the latest in accessories and hardware and gizmos and gadgets so what you end up with is the true realization of your concept, made the best it can be.
Here are some things to look out for in designs that are produced by amateurs – things that will make your closet less efficient and less user friendly by ignoring industry standard closet organizer ideas:
Don't accept a design that puts hanging in front of hanging in a corner. Lots of non-professionals make this error and it makes it difficult to access the hanging on wall A when you turn onto wall B.
Make sure you measure your belongings so shelf width and section height will actually accommodate your things without waste. No point in having a 24" wide shoe shelf when 3 pair of "her" shoes will fit on a 21" wide shelf. You pay for extra material and you waste space that could be used for other things.
Check out the depth of a section as well. Most shoes will fit on 12" shelves so if your shoe sections are 16" deep you are paying for material you won't be using and it looks awkward as well. You wouldn't wear a garment 3 sizes too big, would you? It's the same principle.
How high is your hanging rod? If you are 5'2" tall, can you reach a rod at 94" off the floor? Not so easily. Your own physical "specs" need to be taken into account as well.
This is just a short list of the kinds of things that a truly professional designer will address.
To Wrap Up
If your designer or carpenter or handyman does not address these issues and many more along similar lines, at the end of the project, your dream will not have been truly realized.
If you are not an expert, and after all why would you be, we would be happy to help. No cost. No obligation. Just an opportunity for us to show you closet organizer ideas that really work, correctly, beautifully and affordably.