A Beautiful Boutique & Closet
Create a beautiful walk-in closet in a style that matches your personal taste and decor.
This classically-styled closet features a stunning granite countertop as the center piece. A full wall of shoe storage surrounds a beautiful, large picture window, using all available space. There are multiple hanging and shelving sections on either wall, making a truly custom-made "his and her" closet.
1. Style Options
A walk-in closet can be just as fabulous as any other room in your home. With the right organization, you won't want to hide it behind closed doors. We can create a space you are happy to walk into each morning. Our expansive and diverse selection of finishes, colors and textures is sure to have just the right options to integrate with your existing décor.
2. Creative Shoe Storage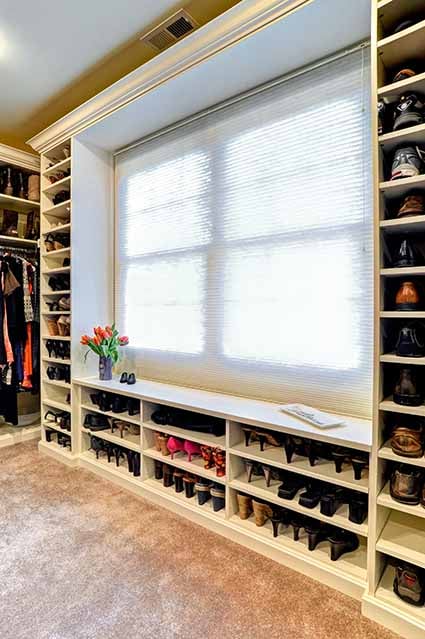 Elements such as a window don't have to become a barrier to design. Opportunities for creative and unique solutions are only available with a custom solution. For example, an entire wall for an expansive shoe collection can be created that maximizes the space in an effective manner from floor to ceiling.
3. Organized Jewelry Storage
Velvet lined two-tier lucite jewelry organizers keep bracelets, rings, necklaces, earrings and broaches organized and easy to find. Keep entire collections visible, accessible and safely stored.
4. Granite Countertop With Additional Storage
A granite countertop can display decorative and creates a practical space to plan outfits or pack a travel bag. Eight deep drawers and shelving make it possible to eliminate additional furniture such as a bureau.
5. Slide Out Accessories
A slide-out belt rack is the perfect for keeping belts accessible and flat rather than being rolled up and stored in a drawer. Slide-out accessories include belt, tie and scarf racks as well as valet rods and are mounted to the end of a unit so they are out of the way and still accessible.
6. Crown Molding
Crown molding adds a graceful flare to finish the top edge around the entire room. Options include box, two- and three-tier, traditional and contemporary.
FREE Remote Or In-Home Design Consultation
By a professional design & space optimization expert for FREE.
Request Your Appointment