Classic and Clean Walk-In Closet
A classically-styled closet designed with a variety of storage options makes the closet system both beautiful and functional.
This classic style closet features a neutral Brushed Aluminum finish. Shaker style doors are versatile and coordinate with the current décor. Crown molding adds a beautiful finishing touch to this closet design.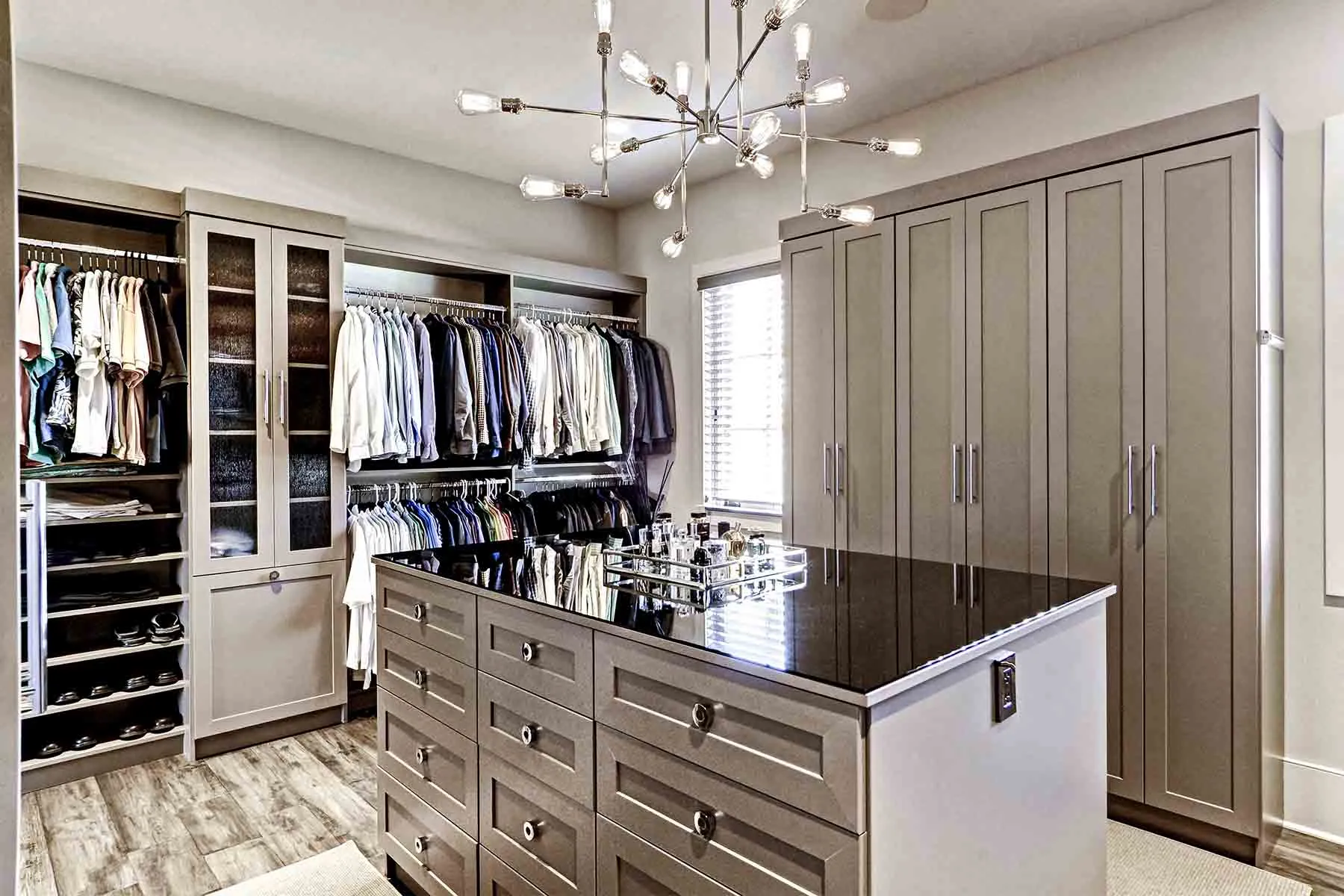 1. Center Island With Storage
This spacious walk-in closet features a center island with 12 drawers for storage so no additional furniture is needed. The large island provides room for folding clothes, arranging outfits or selecting jewelry. Vertical storage space is maximized with double hanging, custom shoe shelves and built-in cabinets with adjustable shelving.
2. Custom Shoe Shelves
Adding custom shoe shelving allows plenty of storage for a variety of footwear including flats, sandals, sneakers and boots. You will have full visibility of every pair of Jimmy Choos.
3. Storage and Accessories
Blouses, shirts, skirts and slacks are neat, organized and wrinkle-free in double hanging storage. A sliding rack keeps belts organized and offers a nice alternative to taking up drawer space. Open shelving can be used for footwear or folded clothing.
4. Laminated Door Inserts
Rain Glass laminated door glass inserts in shaker frames add a unique design element to a simple design. Options include solid color, translucent, pattern and gradient options.
5. Sliding Valet Bar
A slide-out valet bar is perfect for the outside of cabinets to maximize space and allows for the hanging and planning of a wardrobe in addition to a place to remove dry-cleaning bags and hangers.
FREE Remote Or In-Home Design Consultation
By a professional design & space optimization expert for FREE.
Request Your Appointment