Refined and Composed Closet System
A calm and serene closet organized for him with a variety of storage options and functional features.
This classic style closet features a Monaco finish complimented with bright Polished Chrome accents. Accessories such as a slide-out tie rack, tilt-out hamper and slanted shoe shelves with fences makes this closet sophisticated and practical.
1. Customized Sections
Hanging sections are tailored to meet the needs of this wardrobe. Accessory storage items keep ties and belts organized and easy to find. Custom shelves are wide and deep enough for garments of all kinds including sweaters, hats and jeans. Even in a custom solution, spaces can be adjusted to adapt to the changing needs of a wardrobe as season's change.
2. Shoe Fences
Shoe fences are available in a variety of finishes to match your closet design including Polished Chrome, Satin Nickel and Oil Rubbed Bronze.
3. Velvet Drawer Inserts
Velvet drawer inserts provide storage for watches, sunglasses, cufflinks and other special occasion or everyday accessories.
4. Birch Drawer Dividers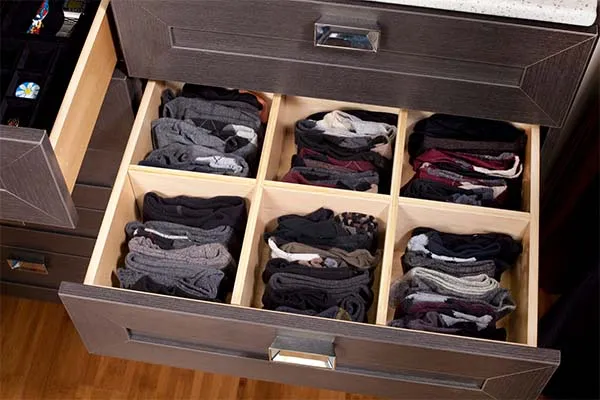 Customized birch drawer dividers keep socks, ties, and underwear neat and organized. A variety of configurations are available – cubbies or rows with 2, 3, 6 or even 12 compartments.
5. Sliding Tie Rack
A slide-out tie "drawer" keep ties neat, organized and from protected from becoming wrinkled or creased. This specific rack can hold up to 150 ties for an expansive collection.
FREE Remote Or In-Home Design Consultation
By a professional design & space optimization expert for FREE.
Request Your Appointment