How to Manage Your Wardrobe
"I don't have anything to wear."
How many times has that thought crossed your mind when a last-minute business meeting pops up, or you're headed to lunch with friends at a trendy restaurant? No matter how many dresses, pairs of jeans and blouses sit in your closet, there are bound to be times when surrounded by outfit after outfit, you can't figure out what to wear.
Part of keeping your closet organized is properly managing your wardrobe—making smart purchases, knowing what you have and what you need, and storing everything in its appropriate spot. It'll make getting ready easier, help you coordinate new outfits and get the most out of your clothes.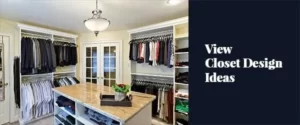 Here are four steps to easily managing your wardrobe.
1. Schedule time to review your closet before each season.
2. When it comes to new clothes, shop for quality not quantity.
3. Add custom storage to keep everything organized.
4. Use smartphone apps to help you track what you have.
Clean Out Your Closet Regularly
Besides just freeing up some serious space in your closet, there are a bunch of benefits to doing so regularly. Cleaning out your closet regularly can help you streamline the space, save you money and create some feel-good vibes if you're able to donate clothes you no longer wear to others.
When reviewing your closet, look for clothes that:
•    Are too small
•    Have a stain or tear that you won't mend
•    Are out of style
•    Look better on the hanger than on you
•    Have sentimental value only (sorry, high school field hockey jersey)
•    Are of a lower quality than what you wear regularly now
Need more help decluttering? Download our infographic to help you figure out what to keep and what to get rid of.
Once you've cleaned out your closet once, create a reminder to do it again in a few months. You might find it helpful to review your clothes before the start of every season.
Invest in Staple Pieces
Key to managing your wardrobe is investing in staples you can build on. According to Real Simple, creating a well-balanced wardrobe with the right basic staple tops, bottoms, jackets dresses and accessories will make it easier to build outfits and get dressed every day.
And when you invest in quality staples, you'll get out of the rut of buying and rebuying new jeans every season, or a new blazer every fall. Instead, you can direct your clothing budget toward special pieces that you'll love and avoid filling your closet with clothes you'll want to donate in a few seasons.
Review these wardrobe essentials for men and women.
Find a Home For Every Blouse, Sweater and Scarf
Now that you've decluttered your closet and put a plan in place for investing in clothes, you need to find a spot for everything you plan to keep. That means every pair of shoes, every handbag, your accessories, jewelry and anything else you normally store in your walk-in or reach-in closet.
Consider custom storage options like shelves for sweaters and folded garments, plenty of long and short hanging space for blouses, pants and dresses, and cubbies and shoe shelves to help you store sneakers, flats, boots and heels.
Wardrobe Management? There's an App for That
Take your wardrobe management a step forward and use apps to help you. There are a number of organization tools you can download right to your phone to help you plan outfits, remember what's in your closet and even sell clothes you no longer want. Using an app to help you manage your clothes can help you avoid buying something you already have and come up with new possibilities when you're in a fashion rut.
If you're ready to better manage your wardrobe, you'll need some help organizing your closet. Turn to The Closet Works, Inc. for help creating a custom closet that includes a spot for everything. Reach out to us for a free in-home consultation to discuss the possibilities.