How To Make a Home Office Work for Two People
Whether you telecommute from home, you own a small business or you simply want to create a space for all your significant files and papers, your home office is becoming an increasingly important space in your house. We're not talking about a desk or two; we're talking about the right way to make working at home as comfortable and functional as possible.
The design of your home office becomes even more vital if it's a space for two people. Now, the space needs to work for two individuals who might do different types of work, have different goals and different working styles.
Here's how a custom office design can help you make your office work for two people.
Functionality is Paramount
The key to creating a customized home office for two people is finding out exactly how each person works, what type of equipment, supplies and files they'll need to store, and how they'll use the space.
While you might work from home every day, and need your home office to feel like home, your officemate might use the home office less often—just a few days each month, or only during certain times of year.
In addition to how often you'll use the space, it's important to determine what kind of storage you'll need. For example, do you need to store a printer? How large is it? And how often will you use it? Will you use a small laptop at your desk, or do you need room for a large monitor or desktop computer?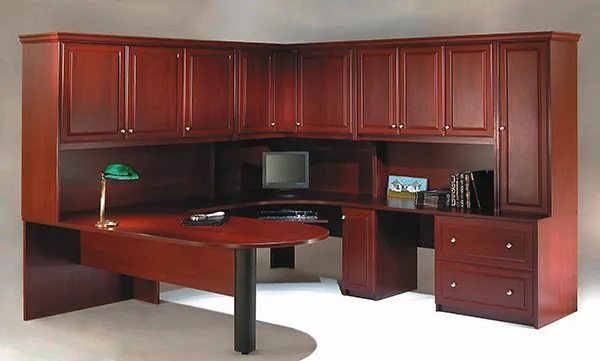 And though most people print fewer papers each year as documents are commonly stored and backed up in the cloud, most of us still need to store files. What types of paper storage do you need? And are your files legal or letter size? Do you need a place for reams of paper, notebooks, binders, pens and staplers? Or would you care for shelves to display awards, photos and other decorative items?
A design consultant can help each person sharing the home office answer these important questions to determine the best design for the space.
Making a Shared Space Work For Two
After figuring out just how both of you work and what types of storage you need, it's time to determine how you'll work together in a shared home office.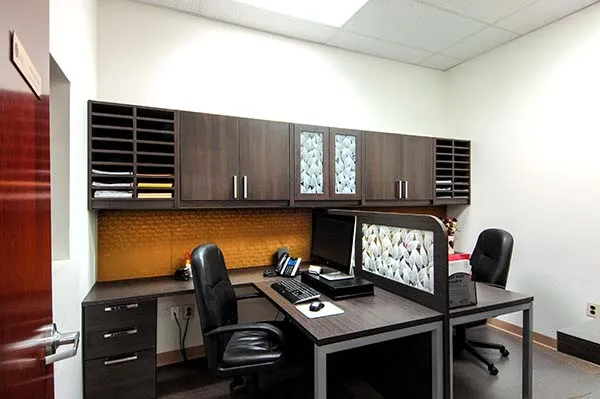 If you both work from home full time, or you own a small business together, it's essential that the space can support two people working at the same time.
A custom home office means that you can create any desk or workstation setup imaginable, from two simple desks that line a long wall, to back-to-back desks that provide more personalized workspaces.
If you want to work side-by-side, a peninsula can divide the room, provide additional workspace, and even create more privacy with a tack board, cupboards or drawers.
Designing a Stylish Home Office
Last, but certainly not least, your home office should match the style of the rest of your home. A custom design for two people means you're not just buying some mismatched office furniture that might not fit the space well. With a custom home office, you get full control of the look and feel of your workspace.

A custom home office design can feature traditional or modern cabinet doors, drawers and desktops, in a wide range of colors. Hardware on drawer pulls and cupboard handles can tie it together, and even be part of your overall brand.
A custom-designed home office can transform your space room into a neat, ergonomic and aesthetically pleasing space that puts style and productivity at the focus.
If you're interested in designing a home office—whether it's just for you or for multiple people—reach out to us.