Your Holiday Organization Checklist
The holiday season is right around the corner, which means it's time to begin thinking about shopping, cooking, event planning and even some merrymaking. To help you get organized (and stay sane) so you can focus on celebrating with friends and family rather than stressing over tasks, we've put together some tips.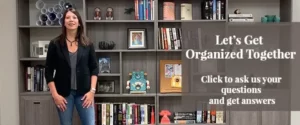 1. Create a calendar (and use it)
You've likely got parties, work functions, events at school, shopping, gift-wrapping and even baking to accomplish in the coming weeks. Carving out 15 minutes of time to plot events on your calendar is critical to keeping events straight this season.
Then, make a list of each event, who needs to attend, whether you're taking a gift (and what the gift should be), and what you're wearing. You'll be able to see where the gaps are and what you need to buy.
2. Make a list, check it twice (no, really)
Writing down your to-do list can help you keep your stress level at bay. You can more easily track details instead of forcing yourself to keep mental notes. Use technology to your advantage in this case and track your notes on your phone, tablet or computer.
Google Docs, Evernote and other note-taking apps are easy to update across more than one device, so you can make changes or cross tasks off your list whether you've got your phone nearby or you're in front of your work computer.
3. Set deadlines (and stick to them)
Now that you've got your to-do list and your calendar, you can divide and conquer. Create deadlines for the bigger tasks on your list, such as sending out holiday cards or baking cookies. Give yourself a bit of wiggle room in case something comes up that prevents you from meeting the deadline.
4. Keep a décor log
Decorating your home is an event in and of itself. If you're swapping out family photos for holiday art or replacing your all-season candlesticks with your snowman ones, keep close track of where you place all-season décor so it's easier to undecorate after the holidays are over.
And to make decorating next year a bit easier, take pictures of your decoration setup so you can easily see what goes where.
5. Keep a gift giving and receiving list

Gift-giving is a big part of the holiday season. It can quickly become stressful if you have a difficult time keeping track of what you've bought, who it's for and how much money you've spent. Track all of this in a spreadsheet so you can stick to your budget and manage your time. To make it easier on yourself, consider streamlining gifts for certain people. For example, giving one gift to all grandparents or one gift to all of your kids' teachers.
A spreadsheet also comes in handy for receiving gifts. Noting each gift and who it's from for you and your family can help you determine who gets a thank-you note at the end of the year.
6. Take stock of your pantry
For many people, holiday season is synonymous with baking season. Now that you've got pie-baking out of the way, take an inventory of your pantry before you begin baking cookies, cakes and other treats.
Put your flour and sugar within easy reach and organize your baking-related spices together so you know exactly where the cinnamon is when you need it. This will keep you from asking your neighbors for a cup of sugar or making a late-night trip to the grocery store.
7. Review your linen closet
Get ready for overnight guests by creating an organized, relative-ready linen closet. Make sure you've got enough towels and sheets for your family and your guests, and take time to store like items together.  Folding all of your towels the same way and keeping sheet sets folded and stored in a pillowcase will keep your linen closet looking neat.
Pro tip: Put a basket together of leftover hotel shampoo, conditioner, soap, body wash and other freebies to keep in your closet or guest bathroom. Your guests will thank you!
8. Make gift wrapping more organized
Love it or hate it, the holiday season typically requires lots of gift-wrapping. You can make this sometimes-tedious process a little less stressful by keeping your supplies organized. Dedicate a space in your home office, craft room or family room for gift-wrapping, and keep your tape, scissors, bows and ribbon handy by storing them in baskets and bins.
Use the same bow color or paper style for each family member so you can easily tell who's getting what.
9. Plan downtime
Remember that calendar you're organizing? Include plans for relaxation between now and New Year's Eve. If you don't, you'll feel much more stressed out and unable to enjoy yourself. Whether it's seeing a movie with your kids, working out or getting a massage, a little R&R is much deserved.
10. Recruit the help of others
No matter what Martha Stewart says, you can't do it all. Enlist your children or spouse to help you put up lights, decorate the house or make a shopping trip. In these weeks leading up to the holidays, you may also want to get your kids to organize their rooms and their closets to make room for new toys and clothes. Be sure to donate what you no longer want.
11. Be Flexible
Getting organized before the hustle and bustle of the holidays begins can help you build in time for flexibility. If things don't go quite as planned—a big work project flares up before Thanksgiving or your kid comes down with the flu—you'll still be able to accomplish what you've set out to do because you're organized.
12. Put a post-holiday plan in place
After the holidays, it's time to take down your decorations and store them for the next year. Use clear plastic containers to store decorations and add labels or pictures to the front so you know where your decorations are. This will make decorating for the holidays next year just a bit easier.
Taking some time to get organized before you begin prepping for the holidays can help the season feel a little more merry and bright.