How Much Should a Custom Closet Cost?
Closet clutter might not seem like a big deal, but it can overload your senses and make it more difficult to process information.
It happens when you can't see some shirts that are crammed into the corner of the hanging section in your closet. Or when you try to grab one pair of shoes from a flimsy shoe rack and others fall onto the floor in a pile.
It happens when you have to spend 20 minutes each week refolding all of the clothes you store on the one shelf at the top of your closet. Or when you have absolutely no place to store belts, scarves or costume jewelry.
You know you've got to do something about the constant clutter that's bogging down your day and stressing you out. It's time for more than wire shelves or a cheap DIY storage solution. It's time for a custom closet.
But cost is a factor—obviously, you want it to withstand everyday use but a solution shouldn't break the bank.
What affects the price of a custom closet?
Some people hear the word "custom" and shudder because they think if it's specific to me, it's going to be pricey. The truth is, it depends.
How much your custom closet will cost depends largely on three main factors:
The size of your closet. Obviously, the larger the space, the more material you'll need to outfit it.
The color or finish of the TFL boards being used.
The design features you choose. For example, shelving is more expensive than hanging storage, and drawers are more expensive than shelves.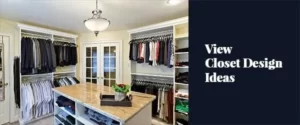 Other factors that impact the price to a lesser degree are decorative hardware for drawers and doors; the countertop material you select; crown molding; and accessories such as valet bars, tie racks and belt racks.
If you're budget conscious and have a large space to fill but love the idea of more colorful finishes, opting for white closet casework (the vertical and horizontal partitions in the closet) and contrasting color drawer fronts and doors can give you a similar stylish look for a much lower price.
Why Transparency Matters
The price you're quoted should be given based on the types of materials used and the space that's being customized. Some custom organization companies might quote a price based at a dollar amount per linear foot; that's not a very transparent or accurate method for understanding how much a custom closet costs—and it usually means that it's not a terribly competitive price.
Therefore, if you're trying to add a custom closet but do it in a budget-conscious way, it is more difficult to adjust the levers up and down and modify the components to fit within your budget.
At The Closet Works, the price we offer is based on the individual components you choose. This means there's no mystery, and importantly, there's no pressure when we offer you a price. Unlike some custom organization companies that use high-pressure sales tactics to close the sale the day of a consultation, or give you a "guesstimate" after looking briefly at the space, we offer a thoughtful, firm price that is based upon our list price and any promotions we're offering. In addition to pricing our closets in a way that's easy to understand with no surprises, we offer a Low Price Guarantee. We know that our price and the quality of our products is the best you'll find when you compare apples to apples.
If you'd like to see how a custom solution can help you organize your life, schedule a remote or in-home consultation or visit our showroom.