6 Ideas to Help You Organize a Baker's Pantry
It's the most wonderful time of year if you love to cook big family meals and bake treats for the holidays. But cooking can easily turn hectic if you can't find the spices, the baking dish or the dry goods you need to complete your culinary masterpiece. But by organizing your ingredients, tools and dishes so they're easy to locate, you can once again find joy in baking.
Here are six ways to improve your pantry before the holiday baking season begins.
Clean out your pantry
Store dry ingredients so they're easy to see
Add deep shelves to store appliances
Organize your spices once and for all
Find a spot for large trays and pans
Add adjustable shelves for bakeware
Clean out your pantry
Before you start planning which cookies, cakes and pies you plan to bake this fall, clean out your pantry. Take everything out of your pantry and look for those spices that are expired, dry ingredients that are seldom used, and snacks that have gone stale.
Then, take an inventory of what you have and what you'll need to get you through the holiday season. Make a trip to the store to gather supplies to refill your pantry.
Store dry ingredients so they're easy to see
Flour, sugar, baking soda and more—it all needs a place to live in your pantry. Small items can be stored in handy roll-out drawers, which put everything in view and allow you to see the full depth of the drawer. Larger dry ingredients can be stored in canisters on adjustable shelves. If you've got a lot of supplies, you can even add a tiered Lazy Susan—just spin it to get a full view of all your pantry necessities.
Add deep shelves to store appliances
Most bakers have appliances that aren't used enough to warrant taking up precious kitchen counter space, such as stand mixers, blenders, food processors, scales and even bread makers. Take advantage of a corner in your pantry and easily store all of your baking appliances by adding deep shelves that take advantage of space that would otherwise go unused.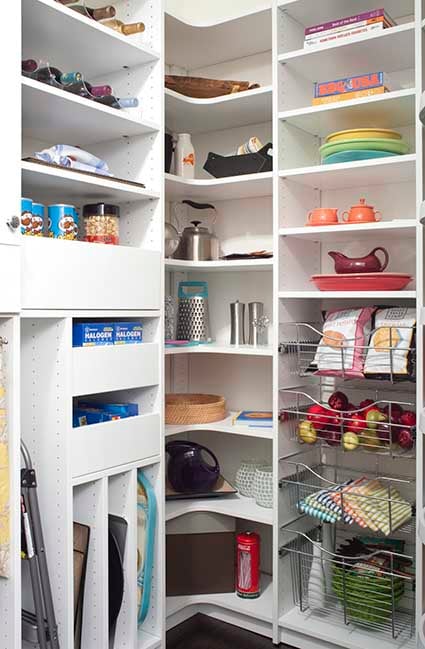 Organize your spices once and for all
Most often, people store spices on a standard cabinet shelf, which means it's difficult to see what's hiding behind the cinnamon, for example, and it's even more difficult to reach to the back to find a spice you only use a few times a year.
Instead of searching through your entire cabinet full of spices each time you need to find the nutmeg, turn to a custom spice drawer organizer that allows you to stack your spice label up so they're always easy to see.
Find a spot for large trays and pans
Cookie sheets, baking mats and trays of all sizes are oddly shaped and often get stashed in a small, dark cabinet near the stove, or stacked in a drawer. Vertical storage is just the spot to store trays so they're easy to see and easy to reach when you're ready to bake.
Add adjustable shelves for bakeware
A lot of bakeware is both functional and beautiful—and it warrants being on display. Store colorful glass and stone baking dishes on adjustable shelves so you can maximize space in your pantry and show off each piece. Adjustable shelves provide the freedom to store everything without stacking items and inadvertently chipping them.
If you're interested in making some serious upgrades to your pantry before it's time to start baking, reach out to us for a free, in-home consultation.