Scary Mistakes to Avoid When Designing a Custom Closet
Creating an efficient custom closet system is usually not a simple task that can be easily accomplished with a DIY solution right out of the box. To create a truly functional, aesthetically pleasing and personal design that factors in your specific needs, requires time and, most often, input from professionals who can guide you through the process. At the end of the day your money will be well-spent and your finished product will be exceptional, not merely "reasonably adequate".  For that reason, informed consumers often enlist the help of professional closet designers to ensure a successful project that provides a closet that has the right amount of space for the items being stored and a purposeful design so that all of the goals you set at the outset, including ergonomic and style, can be accomplished. In addition, you must be sure to avoid the common mistakes described below.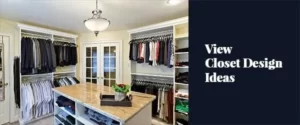 Avoid these common custom closet design errors
1. Not decluttering ahead of time
Before you begin thinking about the design for your custom project, you need to have an accurate inventory of what you are planning to keep, item measurements and how you need them stored in order to maximize functionality and efficiency. Decluttering will give you an idea of which articles of clothing need to be replaced and also leave space in your closet for new ones. Your closet will be more organized and feel more open without outdated, damaged or unworn pieces no longer use taking up valuable space.
2. Not maximizing the available space
A custom closet system should be designed with ergonomics in mind as well as with great attention to the most effective design elements to ensure maximum utilization of the space. There are several concepts to address so that you are truly maximizing the available storage space. Double hanging (or even triple hanging) helps effectively utilize the vertical space. Rather than having one rod with a shelf above and empty space below, two or sometimes even three rods can be configured and adjusted to accommodate your wardrobe and keep items visible and accessible. Full height, velvet lined vertical slide-outs can be built to save space and easily and safely store accessories such as jewelry, belts and scarves, for which effective storage is less obvious. Jewelry cabinets with slide-out trays and vertical pull-outs with pegs will keep jewelry organized and tangle free to store an expansive collection effectively. A center island can include open shelving or deep drawers for additional storage, one or more hampers, a bench and, of course, a top for folding or packing conveniently. All manner of standing cabinets can be built for corners and other open wall areas, small or large, and in challenging areas such as between windows or doors and in areas with sloped ceilings. Spaces such as these are often quite valuable for additional shoe storage, handbags and purses or possibly even out of season clothing.
3. Not having the right amount or types of shoe storage
Depending on the type of shoe collection you have and your preference, there are lot of choices to ensure your shoe storage is optimized in terms of accommodation and applicability for the type of footwear being stored. Sure beats lots of boxes under your bed or on the floor of your closet! Cubbies are great for storing more informal footwear like sandals, flip flops, slippers, sneakers and the like. Angled shelves with shoe fences or heel catches are great to elegantly display more formal items like pumps and other dress shoes. Everyday footwear would be best placed on flat adjustable shelves, which are more easily accessed for easy changeover as the number and style of your shoe wardrobe changes. It's ideal to store your cloth or suede dress shoes in plastic boxes, on high flat shelves to keep them visible but also protected from dust, which can do far more damage to those materials than they can to leather shoes.
4. Not having the right lighting
Lighting is extremely important in a closet and is very often overlooked. There are a variety of ways lighting can be used to enhance your closet experience besides the obvious, which is to promote better visibility. It can also help with those items relegated to less accessible areas in the closet, or in drawers. Subtle puck or strip cabinet lighting can be employed to illuminate glass shelves, cabinets with either glass doors or even solid doors for aesthetic or practical reasons. Lighting can even be used to create a mood. After all, this closet is your personal boutique! You can beautifully display items you want to showcase such as collectibles, purses and handbags, shoes or jewelry.  Consider incorporating a vanity with a flip-up top including a mirror. Lighting here can help with makeup, putting on jewelry or just making that final check before you are out the door. Typically, based upon available outlets in your closet, we can install various types of low voltage LED lighting (which uses a very minimal amount of electricity and does not add heat), without the need for an electrician.
5. Not utilizing specialized accessory storage
Accessories are often overlooked but are the finishing touches that can make your outfit truly pop! Proper organization and display can help keep belts, ties, jewelry, scarves, and all types of accessories both easily visible and available. Drawer dividers are perfect to organize socks, hosiery, belts, lingerie, and all manner of belongings more organized. Additionally, a variety of both wall-mounted and slide-out racks are available for ties, belts, necklaces and scarves. Valet bars are perfect for planning your outfit for the day or hanging dry cleaning while putting it away.  Need a place to store fine jewelry or other valuables? A safe can be installed and concealed, and drawers or cabinets can be fitted with locks for less important items that you may just wish to keep away from prying eyes or little hands. Of course, all types of hampers can be included in the design, many with liners that can be easily removed and taken to the laundry room. Generally, we recommend hampers that are concealed behind a door, but other types are also available which slide out from a cabinet and keep soiled clothes out of sight.
Engaging professionals to help you create your custom closet project is not a scary proposition, it's quite the opposite. The process will help you feel comfortable that you have the right storage solutions for your needs, that you are aware of all the choices that help to truly personalize your closet and can help you select the best choices to help you stay on budget. An established and professional company like The Closet Works will provide a lifetime warranty and low price guarantee, so you can be comfortable that you are paying an appropriate price and that your investment will be backed by a company that has been in business for over 30 years. Please reach out to us for a free design consultation and ensure that you get the right solution that fits your budget and needs right, from the start.